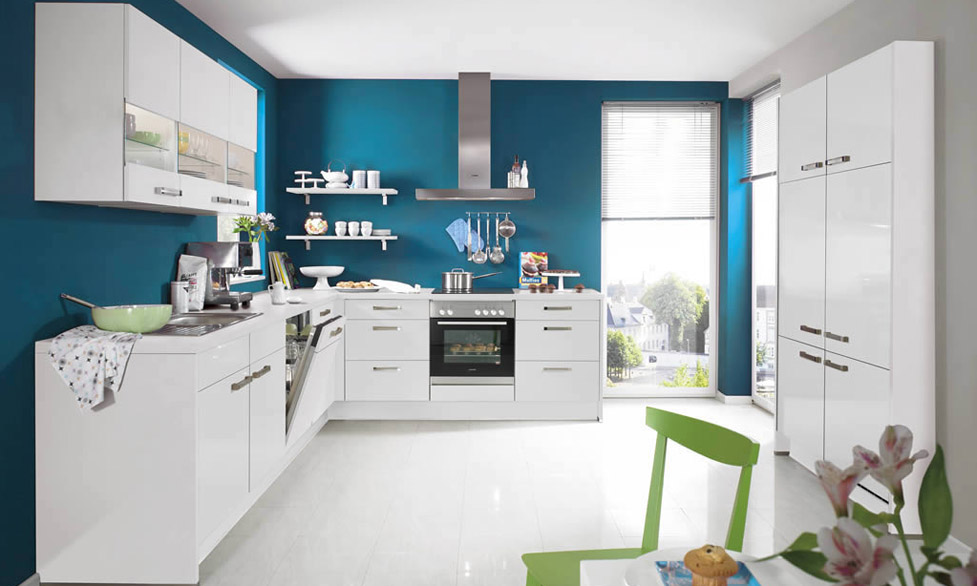 Nobilia White High Gloss 841 German Made Kitchen is a new addition to the Nobilia line up and perfect for those that like simple and elegant furniture in their new kitchen.
Whilst white gloss is a staple of the German kitchen brands with Nobilia, and the design team at iHome Interiors you can achieve more and more with modern kitchen design and the solutions that are now available. As shown above, to create a minimalist and built in look to the tall bank housing a larder and fridge/freezer (to the right of the image above) you can see that the furniture has been put into a custom recess that gives the illusion of narrow depth, and in doing so, keeps the furniture profile sleek and svelte.
We have a wealth of design expertise and a broad range of customer projects to give our customers some inspiration, and with iHome, in addition to designing and installing the furniture, we also work with some first class interior refurbishment experts if any building works are required. With iHome and Nobilia for your next kitchen the possibilities are endless…
iHome Interiors design and install a stunning range of both English Made and German Made kitchens across the South including Buckinghamshire, London, Berkshire, Surrey, Oxfordshire, Hampshire and Hertfordshire.
To order a brochure, request a Design Visit or to speak to our design team about your next kitchen please feel free to contact us by phone, email or the website and if you would like to see a selection of the vast number of kitchen projects and installations we have designed to date please see our Portfolio.

Nobilia German Kitchens – Designed by iHome Interiors – Made in Germany