The spirit of nature, Nobilia Structura 402 Havana Oak German Kitchen is a wonderful example of natural beauty inspiring your living space.
A beautiful combination for feeling connected to nature, with Structura 402 you can savour the beauty of wood with the natural look of the Havana oak décor and the recess panels with forest motif brings nature inside.
Colours from nature and natural-look wood finishes are simply a perfect combination and have come along way in German interior design. For some there will be no substitution for the real thing but for the perfect balance of beauty and function, you can have both with Nobilia Structura.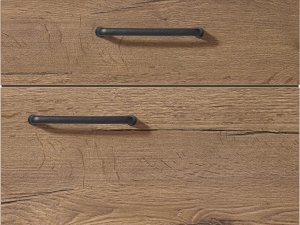 The mix exudes harmony and serenity. And with its intelligent corner solutions, a user-oriented range of storage space options and electrical appliances at ergonomically accessible heights, it also impresses with functionality.
In this example design, the use of Structura 402 Havana Oak is exclusive throughout the room footprint and in addition to the door fronts, Havana Oak has been used for the decorative (open) storage, the midi height wall units, worktop, end panels and plinth.
Because of the warm and natural tone of Havana Oak this very modern German kitchen has the looks of a classic country home kitchen, but all the modern attentions to detail and engineered approach you want for the perfect ergonomically balanced living space.
At iHome Interiors we tailor our designs around our customers specific preferences and needs to design and fit the perfect personalised solution for each and every customer.
If you are interested in Nobilia Structura 402 Havana Oak Reproduction German Kitchen or any other of the kitchens we design, supply and install, we operate across Buckinghamshire, London, Berkshire, Surrey, Oxfordshire, Hampshire and Hertfordshire and offer a FREE HOME DESIGN SERVICE.