Nobilia RIVA 888 Dakota Oak is a new door style that has everything on offer that a kitchen should.
In the above showroom setting or in an apartment with a fraction of the space RIVA 888 Dakota Oak comes into its own, with its warmth and vibrancy.
It's textured wood effect door front brings a wealth of natural character into your interior space. Riva is also available in RIVA 887 Somerset Oak, White Concrete 891, Concrete Grey 892, Sanremo Oak 893, Concrete Slate Grey 899,Somerset Oak 887 in addition to Dakota Oak shown here.
Riva can be mixed and matched with other Riva door styles, or others from the Nobilia brand and the design shown here today is accompanied by Slate Grey (194) worktops and carcase colours.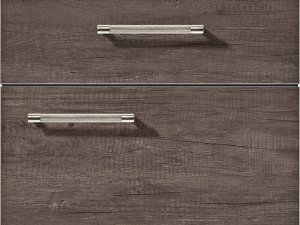 As you can see from the door front image (left), the Nobilia textured RIVA Dakota Oak (ref 888) is a delightful alternative to pine, beech or other lighter shades of wooden tones.
The overall design shown above in the main photo does benefit from a large footprint with plenty of storage space thanks to the XL base units, an integrated table solution and a gorgeous mix of materials all using the modern  Dakota oak and glass fronts in Black glass.
Space for additional pantry provisions, cleaning agents and equipment is provided by the adjacent utility room which is finished with TOUCH 334 Slate grey Supermatt.
At iHome Interiors we lovingly tailor and craft our home interior designs around our customers specific preferences, desires and needs so as to create the perfect solution personalised for each customer.
If you are interested in door style shown here today, namely RIVA 888 Dakota Oak by Nobilia for your new German kitchen, or perhaps any other of the kitchens we have on offer, simply get in touch.
iHome design, supply and install our home interiors projects across Buckinghamshire, London, Berkshire, Surrey, Oxfordshire, Hampshire and Hertfordshire and we offer a FREE HOME DESIGN SERVICE.