Nobilia Riva 891 White Concrete is a new door style from iHome Interiors that has modern, very on-trend industrial chic styling using textured surfaces.
Cool concrete mix
Concrete has had quite the reputation of being somewhat cold and uncomfortable over the years, particularly when looking at 1950's era buildings. But as to using concrete textured surfaces now, we beg to differ concrete is cold or dull.
As can clearly be seen here, or in the flesh for that matter the warm tone and subtle colouring of the discreet White Concrete décor mixes perfectly with the modern Concrete Slate Grey contrasting surfaces, to create a more inspired and softer Yin & Yang overtone.
Nobilia Riva 891 White and Slate Grey 889 Concrete textured surfaces are an ideal combination for connoisseurs of inviting industrial style into their home and the matching Nobilia Smartcube shelf units look particularly cool in this set up here.
In the above showroom setting or in an apartment with a fraction of the space on offer, the RIVA Line-N handle-less door style comes into its own, with its warmth, vibrancy and effortless Germanic efficiency.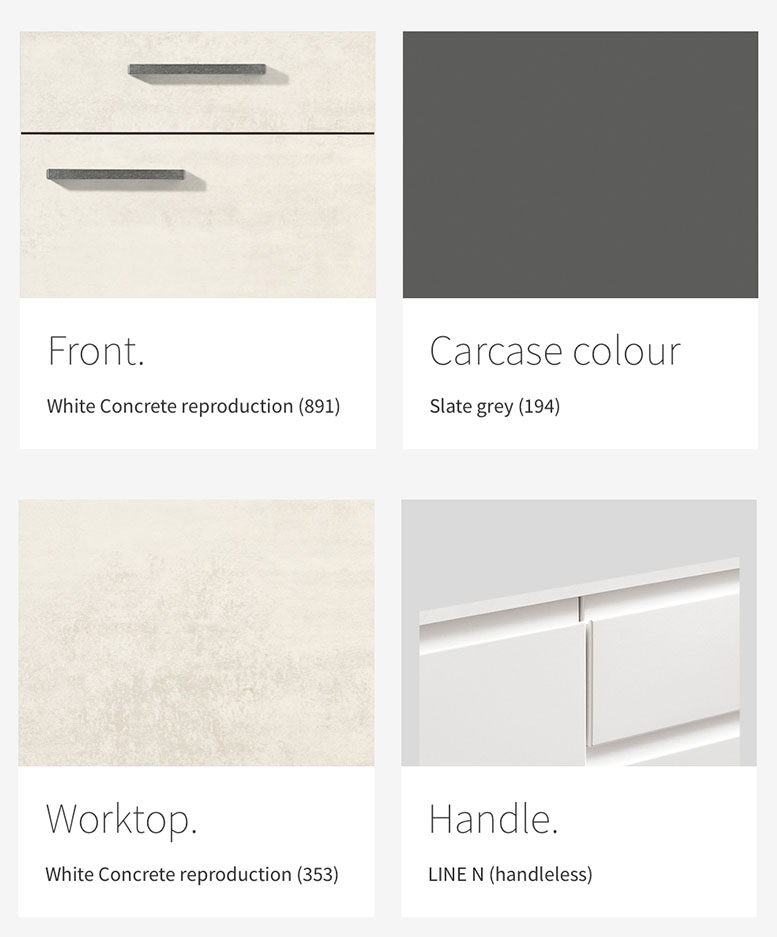 As you can see from the door front close image (above left), the Nobilia textured RIVA White Concrete is a delightful alternative to using the solid white gloss stable of German made kitchens. In Germany and Holland particularly in the last decade there has been an explosive growth in the use of architecturally inspired designs and materials in the home.
With its latest door style offerings, Nobilia's textured surfaces offer something deeper, something beyond the surface and whilst the white gloss handle-less is still a very popular trend, Concrete, Ceramics, Stone and Wood styled surfaces are continuing to growth in popularity, and with it, the choice on offer.
Interested in Nobilia Riva 891 White Concrete for your Next Kitchen?
At iHome Interiors we lovingly tailor and craft our home interior designs around our customers specific preferences, desires and needs so as to create the perfect solution, personalised for each customer.
If you are interested in either of the Riva Concrete door styles shown here today your new German kitchen, or perhaps any other of the kitchens we have on offer, simply get in touch.
iHome design, supply and install our home interiors projects across Buckinghamshire, London, Berkshire, Surrey, Oxfordshire, Hampshire and Hertfordshire and we offer a FREE HOME DESIGN SERVICE.