Naturally cosy. 'Natural Living' kitchens are those with a sense of well being honed from our interactions with our environment. Modern wood décors with elegant textures and warm nuances are sought-after, represent stylishly arranged rooms and lend an inviting atmosphere. Astonishingly authentic-looking wood décors create kitchen looks with exceptional flair – especially when combined with beautifully coordinated solid colours and glass accents. Always up-to-date when it comes to function, our wood décors offer unparalleled kitchen convenience with cosy charm. Decide for yourself – will it be a handleless LINE N kitchen, or a conventional one with handles? The choice is up to you.
RIVA 893 SANREMO OAK REPRODUCTION
Modern mix – natural look. Modern designer kitchens today appear large-scale and straight-lined, as in this elegant mix of fronts in Sanremo oak and exquisite Black glass. The new wood décor with synchronous pore finish merges innovative surface technology with unprocessed appearance. The Riva model is available as both handleless LINE N kitchen and also as conventional with handles.
RIVA 894 ONTARIO OAK REPRODUCTION
With natural charm. Allow us to surprise you with how elegant kitchens in unprocessed wood décors can be. Astonishingly authentic-looking wood décors, such as this Ontario oak reproduction, create kitchen looks with exceptional flair – especially when combined with beautifully coordinated solid colours and glass accents. The design as handleless LINE N kitchen with profiles and glass accents in stainless steel appearance underscores the modern character of this kitchen.
RIVA 896 MONTANA PINE REPRODUCTION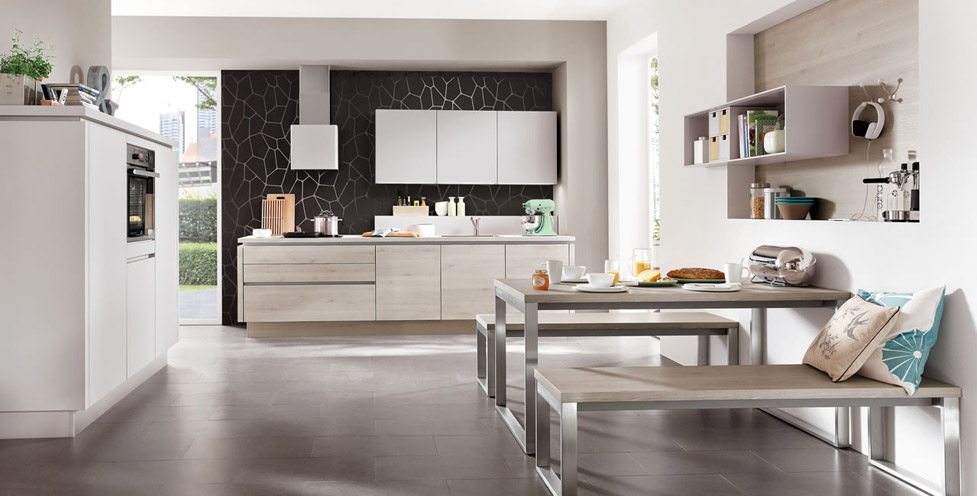 The mix of "floating" base unit elements and compact storage unit elements lends the kitchen a relaxed feel. The centralised dining area with table frame in stainless steel appearance and table top in worktop décor is available in custom sizes.
LASER 417 SATIN GREY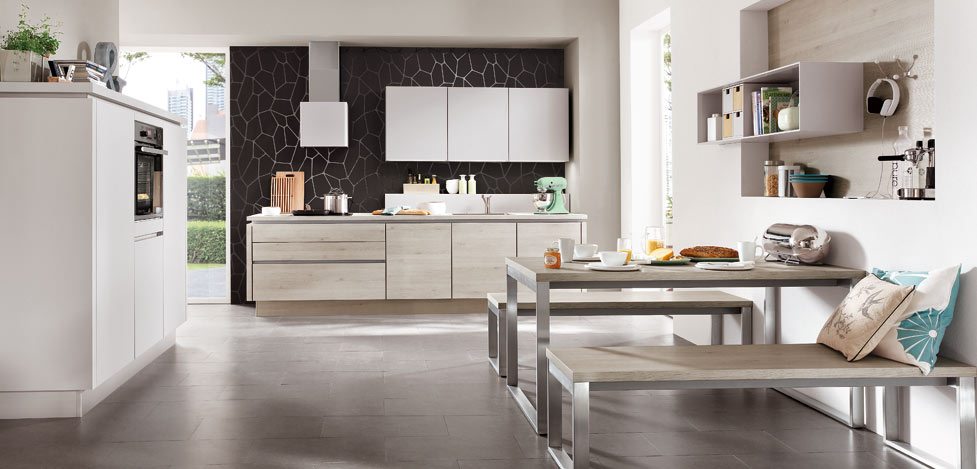 Timelessly modern. If you would rather avoid fleeting interior design trends in favour of timelessly modern kitchen styles that can be enjoyed for many years to come, then, light, monochromatic décors are just right for you. Whether you are inspired by a spotless tone on tone design or a balance of fascinating accents in glass colours and worktop décors – the possibilities are virtually endless.
STRUCTURA 400 GLADSTONE OAK REPRODUCTION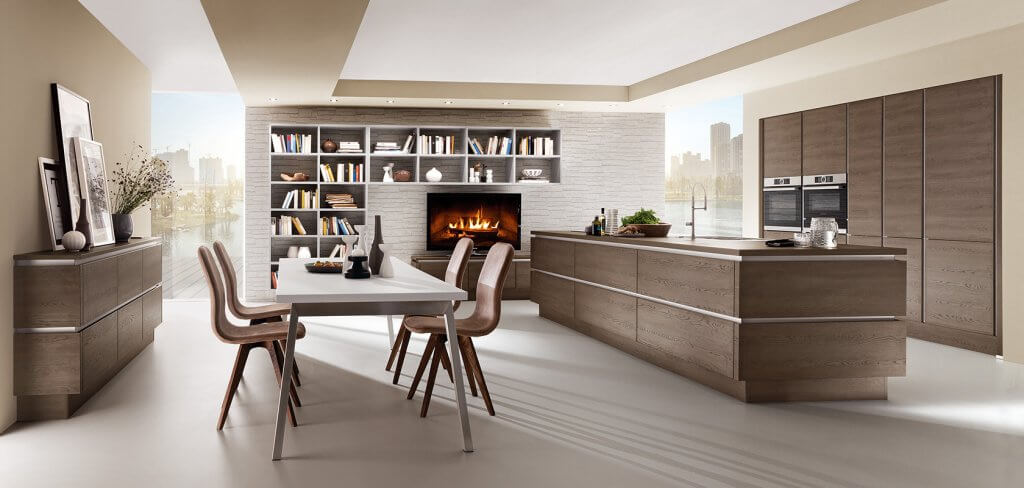 Kitchen and living area share a perfect symbiosis in this suggestion with the wood decor of Nobilia Structura 400 in Gladstone Oak. The customisable open shelf upright system enables a multiplicity of combinations and lends this deliberately puristic kitchen design a homely flavour. Moreover, it provides plenty of additional space for accommodating beautiful accessories, books…etc.
RIO 698 OAK PROVENCE REPRODUCTION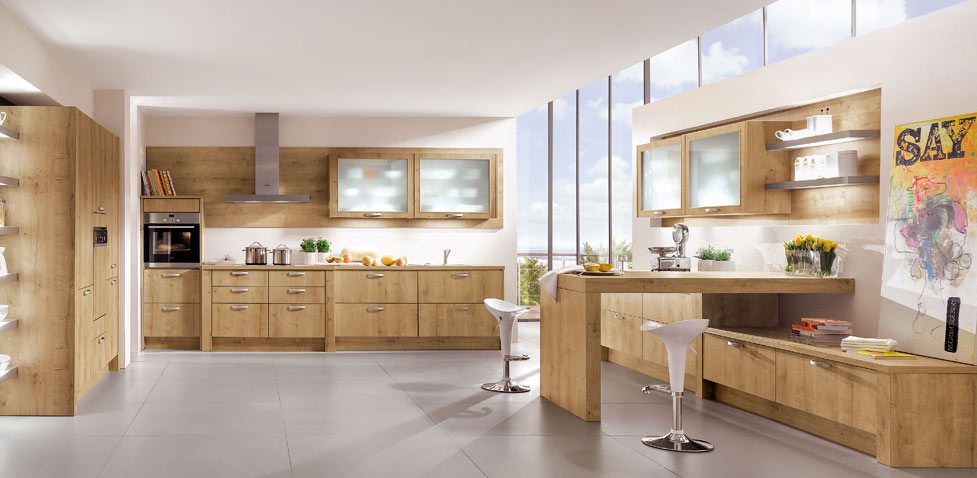 Rural escapism, green belt love affair, country life – these terms are very popular and the trend toward a new natural living is in great demand. Clear, sleek shapes and natural décors and colours are characteristic of the modern cottage style. The colour Oak Provence reproduction is a perfect solo artist that also proves its expressiveness in tone on tone designs. Used purely as a surround colour it creates stunning accents and is also well-suited for lending a cottage style touch to the strong White and Ivory trends.
STRUCTURA 401 SHERWOOD OAK REPRODUCTION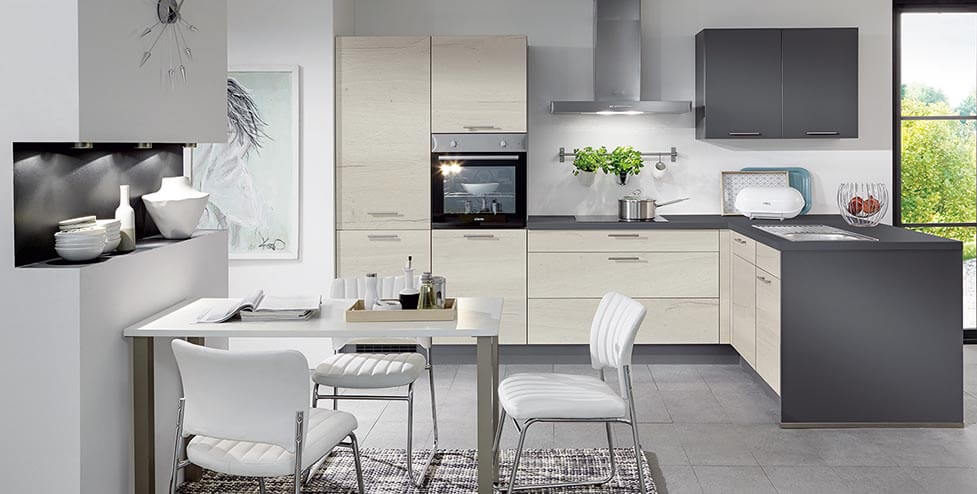 The spirit of nature. Colours from nature and natural-look wood finishes are simply a perfect combination. The mix exudes harmony and serenity. And with its intelligent corner solutions, a user-oriented range of storage space options and electrical appliances at ergonomically accessible heights, it also impresses with functionality. Structura 401 Sherwood Oak Reproduction is also new to the Nobilia range and is set to become a very popular styling choice.
At iHome Interiors we tailor our designs around our customers specific preferences and needs to design and fit the perfect bespoke solution for each customer.
If you are interested in Natural Living Modern Wood Decor German Kitchens from Nobilia for your new Designer German kitchen or any other of the kitchens we design, supply and install, we operate across Buckinghamshire, London, Berkshire, Surrey, Oxfordshire, Hampshire and Hertfordshire and offer a FREE HOME DESIGN SERVICE.