Clean lines and fuss-free, the Avant slab door design is perfectly smooth and flat and shows that for a good contemporary kitchen, English made can be just as good as the Europeans.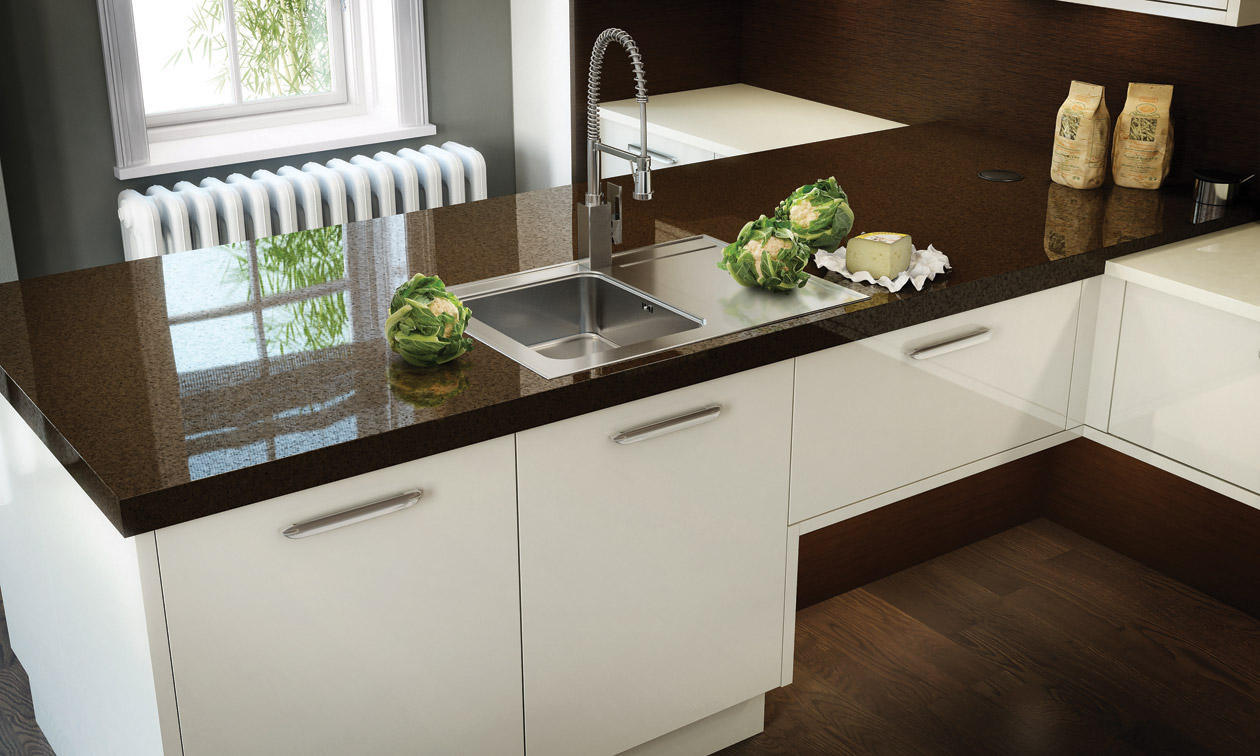 Avant Alabaster is a subtle shade of white with its name having origins in the mineral of gypsum, albeit in a  lightly-tinted variety and as such Alabaster is a great colour choice for when brilliant white may dazzle too much. Alabaster instead offers a warmer reflective variant of gloss and as such is a versatile allrounder, capable of enhancing and softening many other colour choices you may wish to inject into your new kitchen project.
As the photos demonstrate Avant Alabaster is simply wondrous when set against the darker wooden floor, decorative panels and Strata Quartz Meteor Brown worktop which provides a man-made alternative to granite with all the same properties yet with consistent colour.
Made in the UK, the Avant Kitchen range is available in the Alabaster finish shown here plus Ebony and White to allow for differing tastes and to help complete the Avant door style with the personal and bespoke touches that every kitchen deserves there is a wide range of feature doors, accessories, worktops and decorative touches to really tailor your kitchen to your needs.
This kitchen design in this example showcases the modular abilities of the Avant door and in turn our English made range as with the reduced height (floating) base units and wall units, the profile of the kitchen differs greatly to what you would expect from an English kitchen, and allows for a modern and uncompromising look.
For more details on any other of our English Kitchens, to request a brochure, or to speak to one of our designers about your new kitchen project, simply use of website contact form (Contact Us) or call at your earliest convenience…