Nobilia Speed is a very popular slab style (flat) door offering with minimalist appeal that comes available in Ivory Softmatt, Sanremo Oak, Montana Pine. Virginia Oak, White Softmatt, Virginia Oak, Satin Grey and shown here, with the almost washed and textured colour of Sand 271.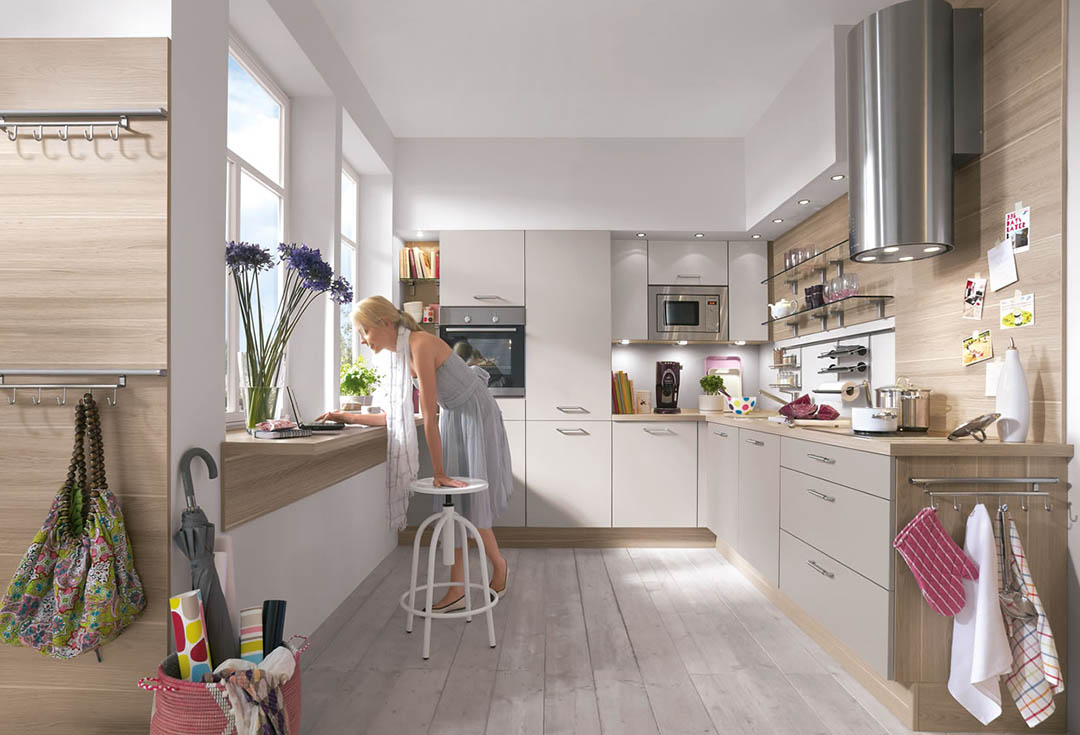 Sand 271 is a fairly new colour from the Nobilia German Kitchen 'Speed' style offering which has also been updated for 2016.
As this new design demonstrates, Nobilia has also continued to add to its range of kitchen products to further enhance the level of bespoke personalisation that is possible.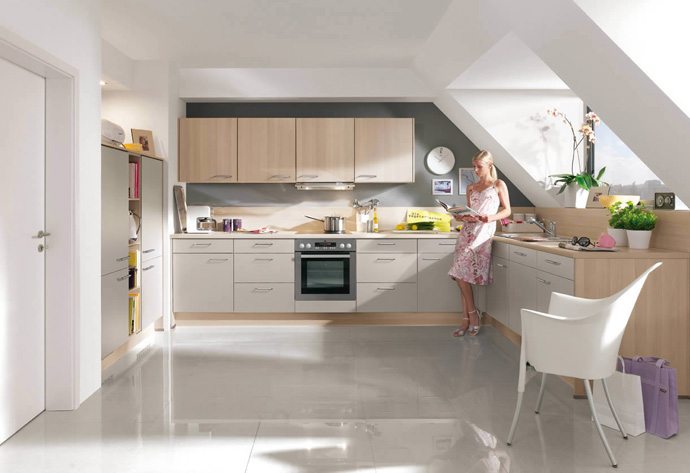 In this design Speed Sand 271 is complemented by Flared Oak decors and work surfaces. The cladding and textured work surfaces have not just been used for the main cabinet run with a splash back (as in most basic kitchen designs) but have been expertly crafted to adorn the wall to the left of the above photo, to offer hanging storage solutions and a nice window work surface / shelf with panelling underneath, which with the single colour facia use in Sand 271, balances the finished design perfectly.
Even in a small footprint such as this design demonstrates, the versatility of Nobilia's furniture is undiminished as with clever storage ideas, recess designs, and a considered thought to modern kitchen ergonomics, the Nobilia range and iHome Kitchens design skills work in perfect harmony to create kitchens that are both functional and aesthetically pleasing in equal measure…
iHome Kitchens & Interiors design and install a stunning range of English Made and Nobilia German kitchens across Buckinghamshire, London, Berkshire, Surrey, Oxfordshire, Hampshire and Hertfordshire.
To find out more, ask our Design Team some questions or order a brochure, and/or request a Design Visit please feel free to contact us by phone, email or the website and if you would like to see a selection of the vast number of kitchen projects and installations we designed to date please see our Portfolio.

Nobilia Modern German Kitchens – Designed by iHome Interiors – Made in Germany