Nobilia Laser is a popular slab style door offering with on-trend German minimalist appeal that is available as shown here in Honed Ivory 418, in addition to Premium White, Mineral Grey, Sand, White, Satin Grey, another variant of Honed Ivory & Flared Oak mix, plus Alpine White and Slate Grey.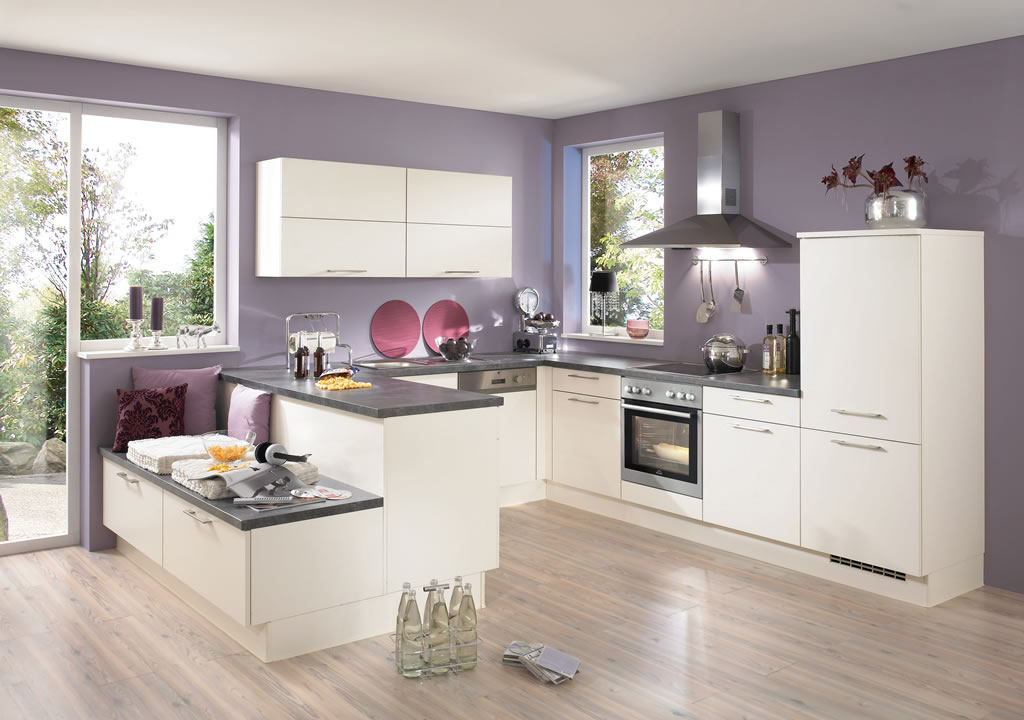 Mixed height surfaces are very on trend in modern kitchen design and it has been the German kitchens brand of Nobilia that has led the way, offering a wealth of choice for those in the market for a very contemporary yet functional kitchen. In addition to looking very modern, informal seating, and various clever storage ideas can be implemented whilst giving your new kitchen something visually stunning and individual to your own interior space.
In the above photo the Nobilia 418 Honed Ivory is contrasted with Slate work surfaces and as you would expect from a neutral colour such as Honed Ivory, it is just as much at home with likewise neutral or more bolder colour choices such as the wall coverings in the example design shown here.
iHome Kitchens & Interiors design and install a stunning range of English Made and Nobilia German kitchens across Buckinghamshire, London, Berkshire, Surrey, Oxfordshire, Hampshire and Hertfordshire.
To find out more, ask our Design Team some questions or order a brochure, and/or request a Design Visit please feel free to contact us by phone, email or the website and if you would like to see a selection of the vast number of kitchen projects and installations we designed to date please see our Portfolio.

Nobilia German Kitchens – Designed by iHome Interiors – Made in Germany