If you have always fancied a German made Nobilia kitchen but felt like you needed more of it, you will be pleased to learn that for 2018, the Nobilia XL kitchen system offers just that…
The decision for a new fitted kitchen depends upon many different factors. Individualised kitchen planning must take the various facets into consideration. Upon viewing the iHome showroom to see Nobilia kitchens for the first time, you will be captivated by the great design, and admire the latest kitchen technology and clever features.
But, kitchens that are perfectly tailored to you must be able to do more. Here our new XL kitchen system with higher carcases gains 10 percent more storage space, which adds convenience, increases ergonomics and offers more diverse planning possibilities.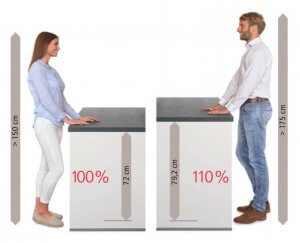 The new XL height in base units provides 10 percent more storage space than standard height, and with it, even more possibilities for accommodating kitchen utensils and supplies. It also benefits the user by forming a perfect synthesis between ergonomic and storage needs.
In terms of optimising space as well as activity heights, the XL base unit height is the ideal size between the standard height and the Maxi height of our vast kitchen system. In addition, XL tall units and XL highboards are available to pair with the XL height base units to continue the uniform line of the kitchen. All three base unit heights – standard, XL and Maxi – can be adapted to the individual ergonomic requirements of kitchen users by combining with four different plinth heights and 2 worktop thicknesses. We also have a Mini height available for lowering individual activity areas.
Nowadays people are growing taller. While at the same time, living spaces are getting smaller – especially in urban settings. For this reason, when planning their new kitchen, many buyers are very concerned about efficient storage space and ergonomics. By the way, storage in base units can be organised particularly efficiently: No other unit category has such an extensive selection of functional fittings and interior organisation possibilities available as here. Another functional advantage of the 14 cm high drawers is that soup ladles and egg whisks fit comfortably. The most important kitchen tools are thus readily accessible at all times, right where you need them most, namely, near the hot plate.
To find out more, ask our Design Team some questions, to order a brochure, or to request a FREE DESIGN VISIT please feel free to contact us at your convenience.

Nobilia Kitchens – Designed by iHome Interiors – Made in Germany