Nobilia Riva 889 Concrete Slate Grey Reproduction is a fantastic example of how the modern German kitchen has evolved from just high gloss finishes to incorporate textured door fronts such as ceramics, metallics, woods and industrially influenced styles such as Riva 889 Concrete Slate Grey shown here.
Clean lines, exquisite materials and clearly structured architecture – these are the distinguishing marks of our Nobilia made iHome designed kitchens. Our extensive assortment of smooth, flawless surfaces enable you to customise your small or large lifestyle kitchen to your exact styling preferences. Connoisseurs of puristic design are well-served with our handleless LINE N kitchens. True Designer Handle-less without the designer price tag.
Riva is also available in White Concrete (891), Concrete Grey (892), Sanremo Oak (893), Ontario Oak (894), Montana Pine (896) and as shown here Concrete Slate grey (889).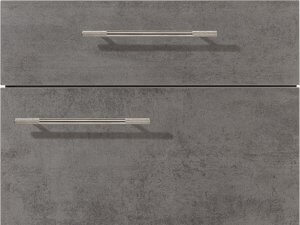 With a continuation of the Slate grey to the worktops and carcase interiors, not to mention the table top and box style hanging extractor, the overall design achieved in this example of Riva 889 has an engineered look and feel. Every item seems to serve a specific purpose.
The open face storage, both in the run of tall wall units to the left and to the right walls are simple yet effective and very cost effective to incorporate. So to is the spacing between the large (under-counter) drawer packs to the left wall which seem to take on an almost floating look just by having a contrasting separator to the door front colour.
Simple but effective finishing touches are what makes a great kitchen standout out from the pack of mediocrity.
Whilst many kitchens can pass the test of a cursory glance it is when you look up close and notice misaligned doors and drawers, gaps between the plinths and such that only diminishes your satisfaction. So whilst Nobilia makes great furniture the process of getting a perfect kitchen is not complete without a competent designer to guide you and oversee the project.
iHome Kitchens & Interiors of Marlow design and install a stunningly beautiful range of English Made and German made Nobilia kitchens across London and the Home Counties such as Buckinghamshire, Berkshire, Surrey, Oxfordshire, Hampshire and Hertfordshire.
To find out more about our kitchens and our past projects feel free to ask our Design Team some questions, To order a brochure, or to request a FREE DESIGN VISIT please feel free to contact us at your convenience and be sure to check out the vast array of customer projects in our Portfolio.

Nobilia Kitchens – Designed by iHome Interiors – Made in Germany