The Rio door style from Nobilia is a textured finish door recreating woods such as Virginia Oak,  Nautical Pine and as shown here Nobilia Rio Oak Provence (698).
The Rio door fronts combine modern design approaches with classic styling so as to offer the modern home owner and kitchen designer some different options via the wood effect finishes as an alternative to solid colour gloss and matt finishes that are still on trend at present.
In this example kitchen which has a larger footprint than most the Oak Provence reproduction has been continued throughout the entire kitchen with work surfaces, decorative wall panels and splash backs and end panels plus featured furniture items such as the storage bench to the right hand wall. These features combine so as to create a warm and natural character to this modern German kitchen. A design that whilst it has the beauty of wood, still belies an interior that has been engineered as only a German made kitchen can.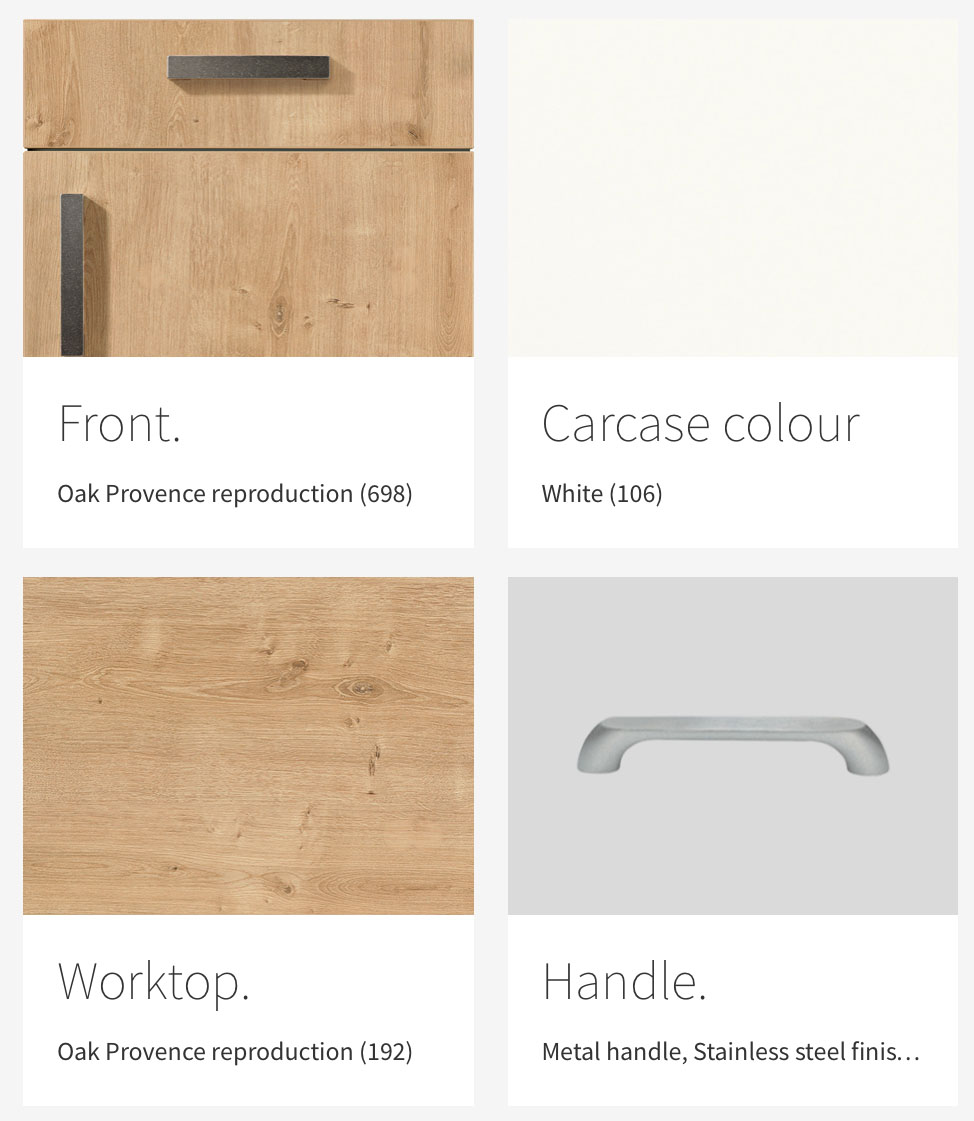 Naturalness is in great demand.
Rural escapism, green belt love affair and  country life are all terms that are very popular in the ever growing trend toward a new naturally inspired living. Sustainable and engineered materials are in great demand.
With Rio you get clear, sleek shapes and natural décors and colours that are characteristic of the modern cottage style but with all of the modern features you would expect from a German made kitchen. The colour Oak Provence reproduction is a perfect solo artist that also proves its expressiveness in tone on tone designs.
Used purely as a surround colour it creates stunning accents and is also well-suited for lending a cottage style touch to the strong White and Ivory trends.
iHome Kitchens & Interiors design and install a stunning range of English Made and Nobilia kitchens across the South East including Buckinghamshire, London, Berkshire, Surrey, Oxfordshire, Hampshire and Hertfordshire.
If you like the Nobilia Rio Oak Provence Kitchen shown here or wish to know more about how this style can be tailored to your next kitchen project we would be happy to discuss it with you. We approach each new project with the same attention to detail, creative passion and dedicated workmanship, and our design process is both consultative and bespoke to each customers needs.
To find out more, ask our Design Team some questions or order a brochure, and/or request a Design Visit please feel free to contact us!

Nobilia German Kitchens – Designed by iHome Interiors – Made in Germany