Rio and Lux are two premium and relatively new doors from the Nobilia range, shown here in a mix of the Rio 698 Oak Provence door and subtle Lux 828 Magma High Gloss detailing.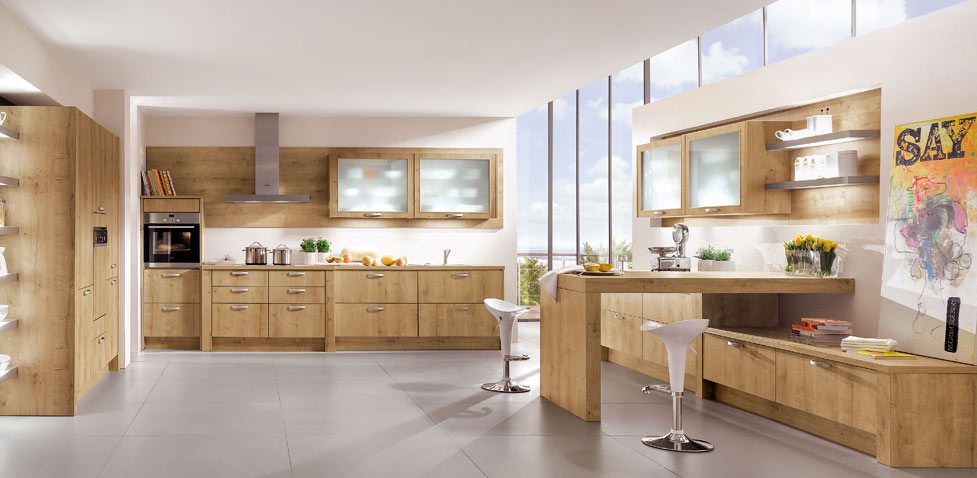 In this room example, the Rio 698 Oak Provence offers the main theme and this kitchen is literally adorned in Oak Provence, from the everything to the chunky worktop, wall and base cabinets, together with the decorative panels and also the tall furniture cabinet on the left hand wall, whilst the Lux Magma, itself a luxouirous colour, is used here to accentuate the Oak and its subtle uses are limited to shelving on both left and right walls.
In addition to Oak Provence, Rio is available in Nautical Pine, Basalt Oak, Virginia Oak, and Flared Oak for those whom prefer to have the timber feel in their kitchen colour choices
With the Nobilia quality coupled with our design and project management, you are in good hands from start to finish with iHome Kitchens.
iHome Interiors design and fit a stunning range of Nobilia German kitchens across Buckinghamshire, London, Berkshire, Surrey, Oxfordshire, Hampshire and Hertfordshire.
Click 'Previous Work' for a look at the vast array of projects we have delivered to date and if you would like to have any further information regarding our Nobilia German Kitchens, or a brochure please feel free to get in touch…