With a German kitchen from Nobilia there is so much choice that we at iHome Interiors appreciate it may seem somewhat daunting but we are on hand to guide you through the process and with our vast experience and wealth of customer projects to date we have detailed first hand knowledge from our customers about the things they love.
When it comes to storage a German kitchen from Nobilia can offer mind boggling levels in multiple formats from drawers and cupboards to drawer inserts and cutlery trays. Waste organisers and bins and Pull Out Storage options.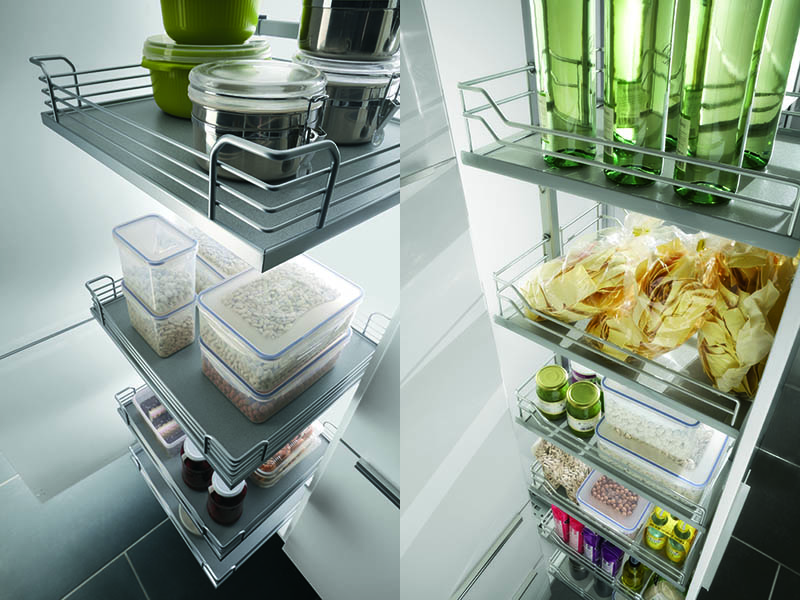 With the Pull Out Storage options on offer from Nobilia you can have tall pull out larder units to store all manners of kitchen items and food stuffs in all manners of configurations. The german way of kitchen designing is to spend a little more time in the planning stage to think about how you use your kitchen. As the saying goes, 'a place for everything and everything in its place' Nobilia have just taken this well meaning phrase to new (engineered heights) so that the extra couple of hours in planning pay dividends over the years from you being happy and comfortable using your kitchen every day.
For advice and some more details on how we can transform your next kitchen and the plethora of storage options at your fingertips simply get in touch and hear how iHome Interiors can design and fit a stunning English made kitchen or Nobilia German kitchen for you.

To take advantage of our Free Design Planning service simply request a brochure and/or book a design visit and one of our team will be in touch right away…