Clear architecture in Slate. Nobilia Stone Art 303 Grey Slateis a new range in laminate design that embodies the trend toward large-sized stone finishes. Thanks to its special three-dimensional surface, StoneArt turns the décor Grey slate reproduction into a front with exceptional aesthetics and natural appearance. The perfect match for this décor is upright panels and worktops in the new design Xtra. Flush mounted hot plates and sinks reinforce this modern, straightforward look.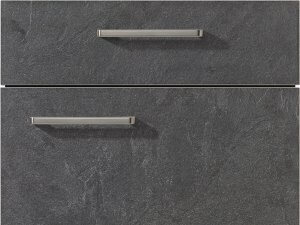 For a kitchen as unique as your taste Nobilia has a wondrous range of styles to suit all tastes and budgets but this new StoneArt is in direct response for the very on trend stone, concrete, slate and other such textures that embody the urban chic.
If you are interested in Nobilia Stone Art Grey Slate for your new German kitchen, or any other of the kitchens we design, supply and install, we operate across Buckinghamshire, London, Berkshire, Surrey, Oxfordshire, Hampshire and Hertfordshire and offer a FREE HOME DESIGN SERVICE.

Nobilia Kitchens – Designed by iHome Interiors – Made in Germany