Nobilia Speed is a very popular door offering with a minimalist appeal. This slab door style comes available in Ivory Softmatt, Montana Pine, Sanremo Oak, White Softmatt and shown here, Satin Grey 259.
The versatility of the German made furniture is a credit to the rise of the Nobilia brand to one of the Worlds leading German kitchen manufacturers, both for Germany's own domestic market, and for export and the above photo showcases just how much can be achieved in modern kitchen design as everything on display, from the extractor, the Speed 259 Satin Grey facias, through to the worktops, decorative panels, and the shelving to the left (rear wall) of the photo are all supplied by Nobilia.
Plenty of storage space – perfectly planned. Much is demanded of a modern day family kitchen. They are required to be highly organised for kitchen work routines, yet sufficient for the entire family to use with ease.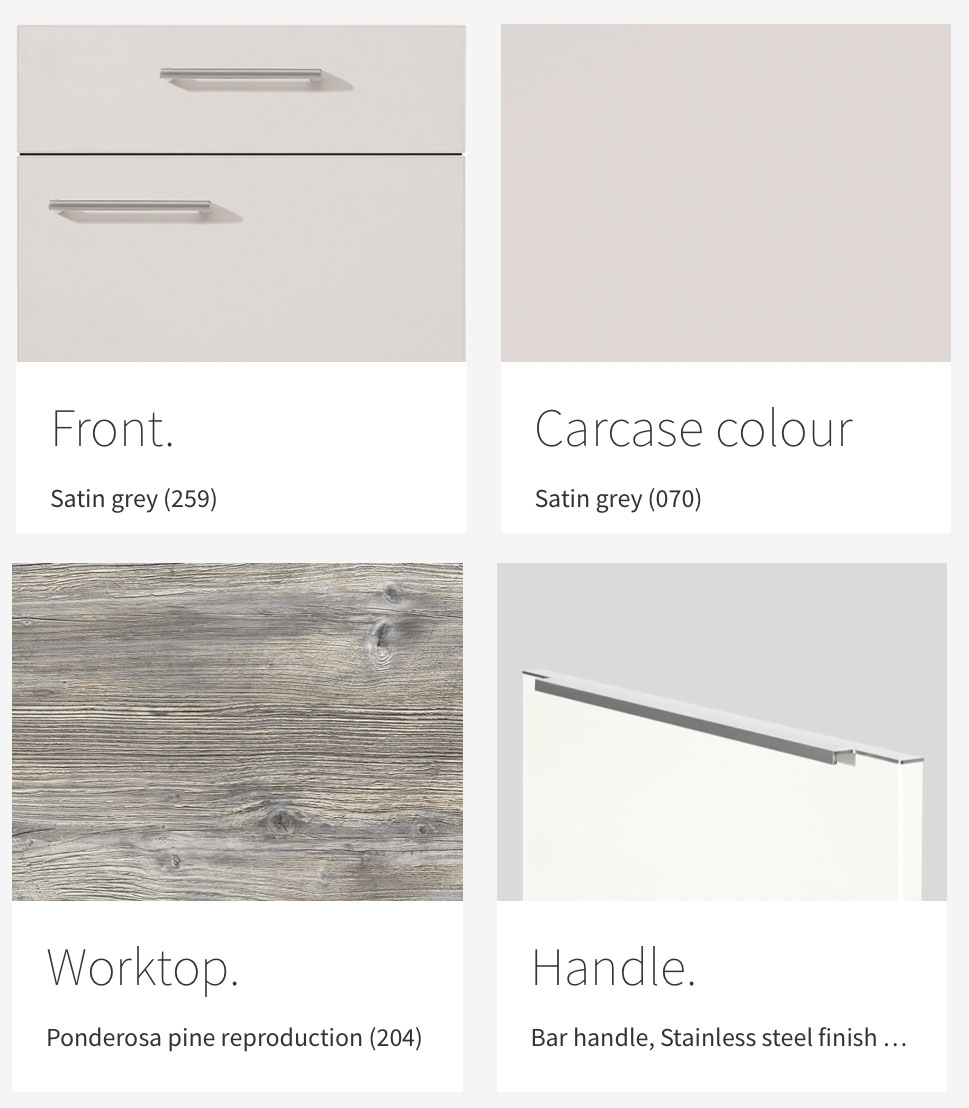 And it goes without saying that a modern family kitchen must have the necessary robustness and durability. The focal point of this family-oriented kitchen shown in the example design is the island cooking centre. It visually separates the kitchen from the adjoining living room allowing for a more open plan room set up without infringing usability.
Whilst colour matching is an obvious benefit from Nobilia supplying such a vast array of furniture and accessories additional benefits such as fewer installation delays and greater ease during the design are achieved as with a design team such as iHome Kitchens, what we create and ultimately design for our customers, gets perfectly translated from the design to the order and then the installation as everything is planned out, as it should be.
Mix and Match
Whilst the Nobilia Speed style is versatile and available in several colours more and more customers are choosing to mix and match door styles to further create a more personalised and bespoke kitchen feel.
Again, as Nobilia have perfectly addressed the needs of homeowners and designers alike, there is very little that cannot be achieved with a new kitchen…
iHome Interiors design and install a stunning range of English Made and Nobilia German kitchens across Buckinghamshire, London, Berkshire, Surrey, Oxfordshire, Hampshire and Hertfordshire.
To find out more, ask our Design Team some questions or order a brochure, and/or request a Design Visit please feel free to contact us by phone, email or the website and if you would like to see a selection of the vast number of kitchen projects and installations we designed to date please see our Portfolio.

Nobilia Modern German Kitchens – Designed by iHome Interiors – Made in Germany