Nobilia Riva Concrete Grey is a new style of kitchen that is a direct response to consumer demand for a fusion of urban and earthy materials and colour choices which have been influenced and inspired by Nordic and Scandinavian interior design, with the reproduction of materials such as concrete, slate and wood to offer more textured and layered visuals.
Concrete Trends
In recent years concrete has firmly established itself not only in the world of architecture but also in interior design. For the last decade industrial architecture and materials have grown in popularity in the design of both commercial and residential interiors and the Riva Concrete door fronts and decors are a wonderful way of bringing textured surfaces into your home in an economical way.
The door fronts with Nobilia offer an authentic-looking concrete appearance. They are an interesting and yet very easy to care for  material alternative for the kitchen and living area which convey a modern urban feel.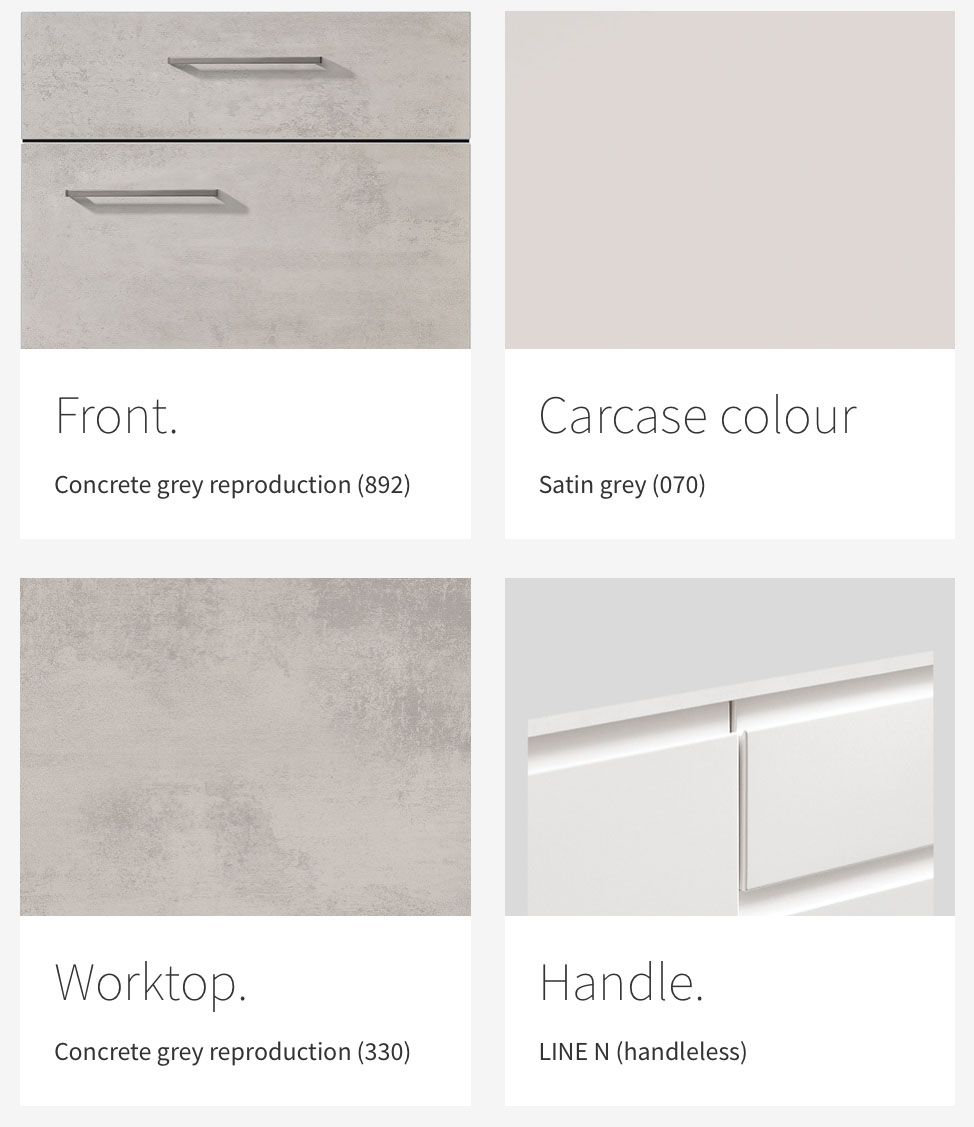 Whether your aim is a puristic design with exclusively concrete finishes – as in this example using Riva Concrete Grey 892 – or combined with warm wood, either way, this door style achieves a trend-oriented kitchen ambience.
Available in Montana Pine 896, Sanremo Oak 893, Ontario Oak 894, Iconic Beech 895 and the Concrete tones of White Concrete 891, Concrete Slate Grey 889  or as shown here in Concrete Grey 892 there are a multitude of styling preferences that can be achieved with this handled and Line N handle-less door format.
With LINE N not only is the look perfect, but also the functionality: The ergonomically shaped recessed handles made of anodised aluminium are perfectly positioned on the carcase to enable comfortable access to doors, drawers and pull-outs.
As shown here, the finished reproduction effect is akin to a highly polished concrete that offers a richness and depth to the bold character of this kitchen which is completed with matching decors and panelling to masterfully craft a engineered feel.
As with any interior project from the iHome Interiors team, we tailor our designs around our customers specific preferences and needs to design and fit the perfect bespoke solution for each customer and we operate across Buckinghamshire, London, Berkshire, Surrey, Oxfordshire, Hampshire and Hertfordshire.
Our Previous Work demonstrates some of the vast amount of kitchen projects we have delivered to date and if you would like to have any further information regarding Nobilia Riva Concrete Grey 892 our any other of our Nobilia kitchens please feel free to get in touch…