Riva is a textured door finish from Nobilia and shown here is Riva 896 Montana Pine which is proving to be a very popular choice, with its semi-industrial chic and washed natural overtone fusion that has been expertly designed to offer a modern and contemporary feel which moves away from solid high gloss monochrome colours for which German kitchens are so well known for.
The Riva range comes in Montana Pine (as shown here) plus equally sumptuous and luxurious textured finishes such as Riva 891 White Concrete, Riva Concrete Grey 892, Riva Beech 895, Sanremo Oak 893 and Ontario Oak 894.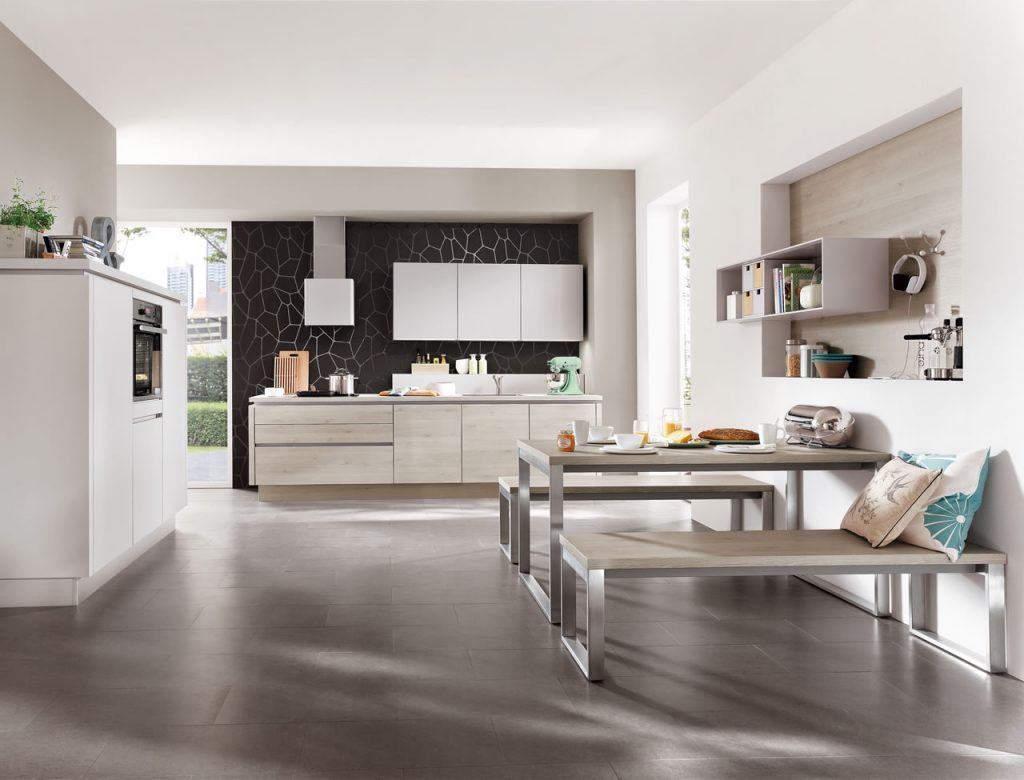 Whilst Riva 896 Montana Pine is a bold and distinctive colour choice for your next kitchen iHome Kitchens & Interiors are on hand to help you integrate all of the Riva range into your new project and we can advise on how to enhance the door fronts, what textures and tones work to complement the Riva textured finishes and what styling influences you can use to contrast Riva or perhaps to mix and match with other door fronts.
As the two images show, Riva 896 Montana Pine has been used in both to a very effective standard and whilst in the main image (top) Riva 896 Montana Pine has been used exclusively the addition of Sage decors really changes the end result and makes the overall design more earthy and natural. In the image above, the only significant change in dropping the Sage decors was to introduce a mixed door style, namely Nobilia Laser Satin Grey 417, which also softens the Riva 896 Montana Pine with a very subtle nuance.
iHome Interiors design and fit a stunning range of Nobilia German kitchens across Buckinghamshire, London, Berkshire, Surrey, Oxfordshire, Hampshire and Hertfordshire.