The Nobilia Rio374 and Laser 415 Mix as seen here is a German kitchen comprising a mix of Laser Sand and Rio Nautical Pine reproduction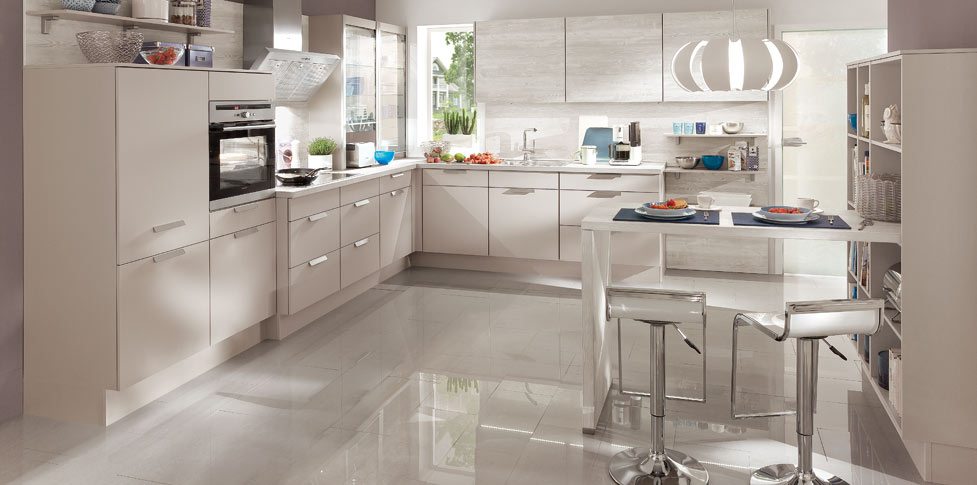 This has a warm and earthy tone that like the Champagnes and other biscuity tones it exudes class and creates a comfortable ambience that the modern kitchen customer wants. As the old 'classic' format of distinct and separate kitchen and dinning rooms makes way for more integrated and contemporary living, its colours like Sand that make people more at home.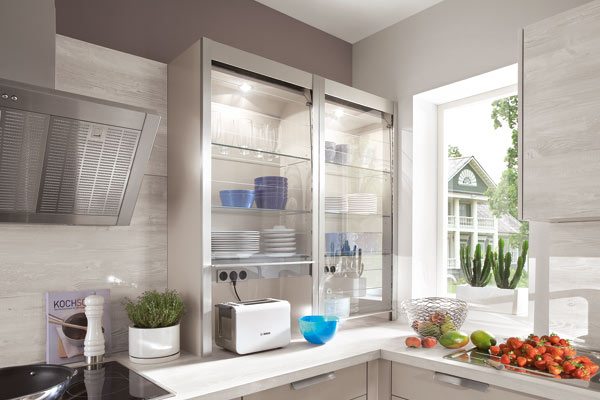 above: The UK homeowner seems to have an eye for design and styling, which the Germans are more and more coming to realise and whilst the metal roller doors have sold here, they have been in small numbers yet Nobilia's glass panels for over counter units as seen here are a welcome addition.
below: From this photo we can see the textured finish of the Nautical Pine continued in the wall units with pull up doors, and the decorative panelling adorned with simple shelving, all available from Nobilia and also a good example of what the modern on trend practice of mixing and matching can achieve.
Laser from Nobilia is a slab door style available in Premium White, Sand, Mineral Grey, Satin Grey, Honed Honey, Honed Ivory, Flared Oak Reproduction and as seen here in Sand 418 complimented with Rio Nautical Pine Reproduction. Rio is also available in Basalt Oak, Virginia Oak, Flared Oak and Oak Provence textured finishes.
With the Nobilia quality coupled with our design and project management, you are in good hands from start to finish with iHome Kitchens.
Click 'Previous Work' for a look at the vast array of projects we have delivered to date and if you would like to have any further information regarding our Nobilia German Kitchens, or a brochure please feel free to get in touch…