The LINE N kitchen collection from Nobilia kitchens creates a beautifully linear and uniform appearance, enhancing interiors spaces to further develop what a true German handle-less kitchen really is, and shown here is the Line N Laser 413 in Mineral Grey.
The handleless LINE N styles all have a horizontal recess between the door and worktop that seamlessly runs for t
the entire length of the kitchen resulting in a unobstructed and continuous profile and Nobilia's precision engineering at work, the doors and drawers are perfectly square, laser edged and without embellishment.
Shown here, the Laser 413 Mineral Grey is abundant throughout and only broken by the Sanremo Oak work surfaces and atop the table and benches plus as a nice decorative splash back and panelling to create a very rich and vibrant colour choice that shows to why grey tones in modern German kitchens are so on trend right now.
Also available in White, Premium White, Sand, Honed Ivory, Satin Grey, Slate Grey and Alpine White, Line N is a premium offering from Nobilia and a popular choice for homeowners.
The beauty of Nobilia kitchen furniture is that whether you have a large kitchen footprint or a small studio apartment its modular format and mixed heights and depths allow for all of Nobilia's kitchen range be it Line N or otherwise, to be installed without compromise.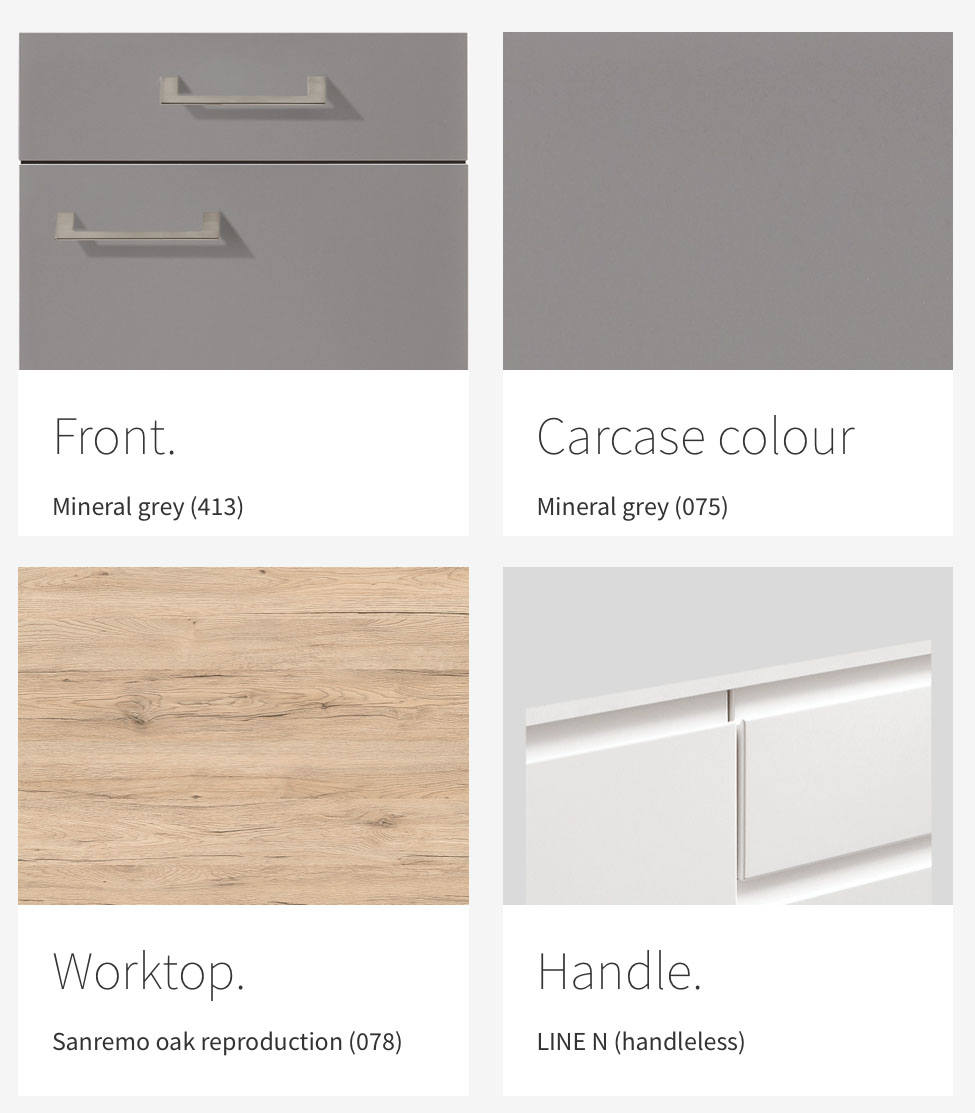 Handleless and systematic.
The range of door fronts and units in the handleless LINE N kitchen system are notable for their great diversity. The vast selection encompasses a total of 37 modern door fronts of very high-quality workmanship and roughly 500 different kinds of units.
The planned end of run for LINE N kitchens can be designed in a variety of ways using end upright panels or front uprights. With large door sizes, e.g. fridge/freezer combinations, it is recommended that the recessed handle direction run vertically – as in this tall unit combination – for ergonomic reasons.
With 37 different Line N door fronts available we can mix and match door fronts to give our customers an expanded colour palette with almost endless possibilities.
Nobilia Line N Handle-less Range
For more information on LINE N Nobilia Kitchens please get in touch and see below the range of beautiful and functional kitchens that are available:
*clicking on any image below opens the Line N gallery at your chosen image
At iHome Interiors we tailor our designs around our customers specific preferences and needs to design and fit the perfect bespoke solution for each customer.
If you are interested in LINE N Nobilia kitchens, or any other of the kitchens we design, supply and install we operate across Buckinghamshire, London, Berkshire, Surrey, Oxfordshire, Hampshire and Hertfordshire.