Nobilia Laser is a popular slab style german kitchen door offering with on-trend minimalist appeal that is available as shown here in Alpine White 427 with Ferro Bronze Decors.
The Nobilia Laser door in Alpine White has charm and it is clear to see in this example design that matt tones work fantastically with the bronze décors that completely transform the same Alpine White that is shown below.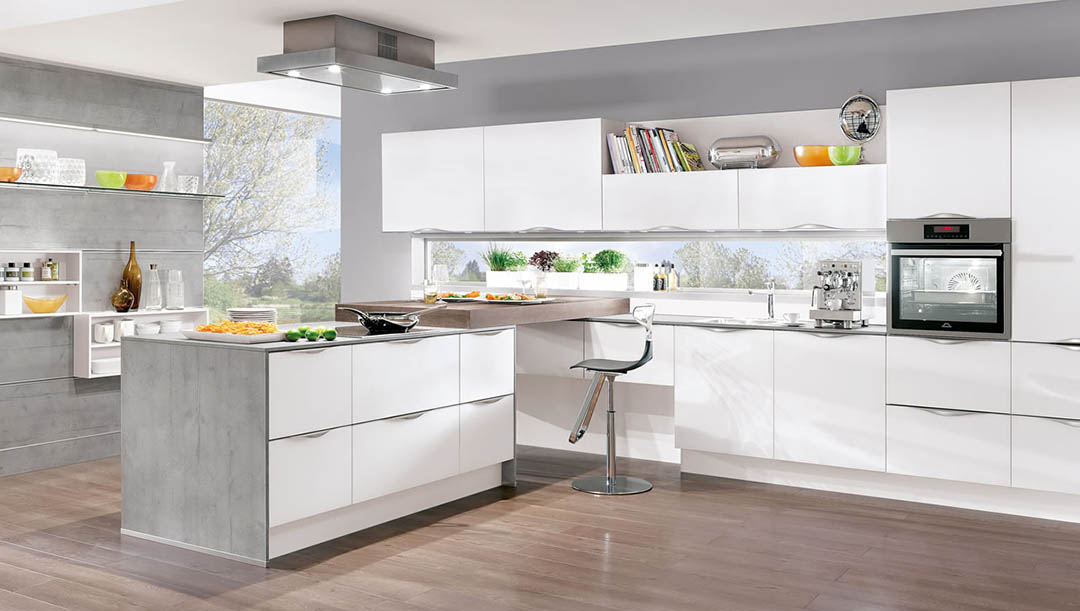 In recent years COLOR CONCEPT from Nobilia has helped many kitchens become brighter, fresher and bolder and this year is no different as the range of colours and textures is always expanding this popular colour and décor system  to take personal creativity to the next level. Enhancing the Colour Concept idea ever further is an extensive range of open shelf units, niche claddings, upright panels, flap door wall units and much more make it easier than ever to design kitchen solutions with even greater versatility and personalisation. Unleash your creativity and bring a touch of colour to your kitchen!
In addition Nobilia Laser Alpine White 427 are Premium White, Solid Honed Ivory, Mineral Grey, Sand, White, Satin Grey, two variants of Honed Ivory & Flared Oak mix, plus Slate Grey.
The COLOR CONCEPT-range contains eight cutting- edge and contemporary solid colours, as well as mo- dern concrete and bronze décors to create targeted colour accents. In addition, many of these colour schemes can also be realised with our 17 carcase colours. We have created countless possibilities for you to dress your kitchen in colour.
iHome Kitchens & Interiors design and install a stunning range of English Made and Nobilia German kitchens across Buckinghamshire, London, Berkshire, Surrey, Oxfordshire, Hampshire and Hertfordshire and if you would like to see a selection of the vast number of kitchen projects and installations we designed to date please see our Portfolio.
To find out more, order a brochure, or request a Design Visit please feel free to contact us.

Nobilia German Kitchens – Designed by iHome Interiors – Made in Germany