Nobilia Laser 427 in Alpine White is the timeless classic german made kitchen style that works in almost any environment.
White continues to count among the most popular kitchen furnishing colours but why? Well, perhaps its because White is timelessly beautiful, perhaps it is because it elegant and clean, and perhaps just because it feels good to have.
White is unobtrusive, it makes rooms look and feel larger, and it outlasts the whims of fashionable trends. In addition, White is incredibly versatile and changeable on its own, but also endlessly interchangeable with a host of other colours, textures and finishes. White can hold its own against coloured accents and vibrant contrasts as well as with cool metals and natural wood tones, making it the perfect choice for both small and large designer dream interiors.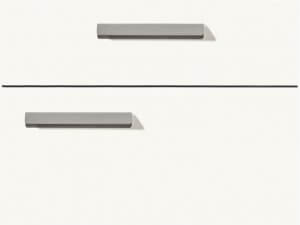 Whilst the Line N (handle-less) design on show here using Nobilia Laser 427 Alpine White is quite considerable the beauty about both Nobilia Line N and Alpine white is that the desired look is scalable up or down to fit your room size. Maximum appeal, minimum fuss.
From the built in (recessed) tall bank to the far wall, the featured island with L-shape orientated breakfast bar to the large under-counter draw packs to the right hand wall the Line N handle-less is elegant, clean and unbroken in its simplicity to create a bright and inviting kitchen that you will feel at ease with.
iHome Kitchens & Interiors design and install a stunning range of English Made and German made Nobilia kitchens across London and the Home Counties such as Buckinghamshire, Berkshire, Surrey, Oxfordshire, Hampshire and Hertfordshire.
To find out more, ask our Design Team some questions, to order a brochure, or to request a FREE DESIGN VISIT please feel free to contact us at your convenience.

Nobilia Kitchens – Designed by iHome Interiors – Made in Germany