Laser from Nobilia is a slab door style available in hande-less and the colours of Premium White, Sand, White, Satin Grey, Honed Honey, Honed Ivory, Flared Oak Reproduction and as seen here Handle-less Mineral Grey 413.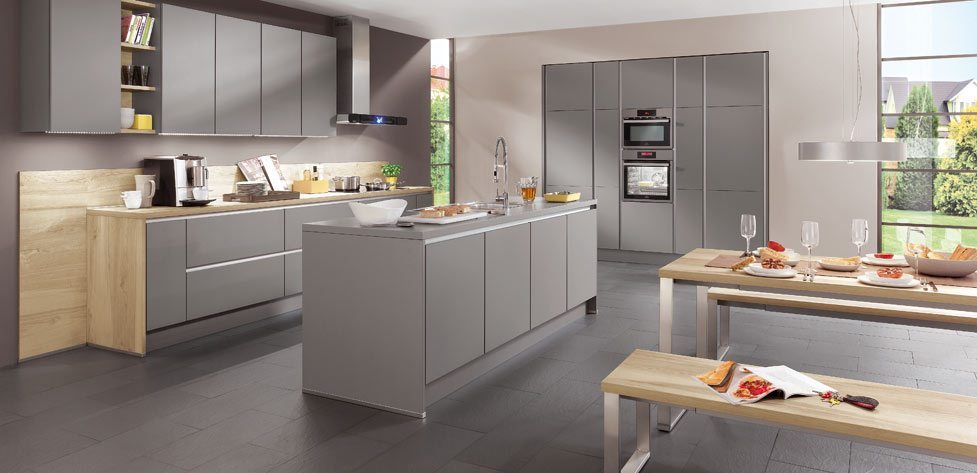 Mineral Grey is a new colour from Nobilia that has been specifically formulated to cater for customer demand, where matt and satin greys and anthracites are becoming increasingly popular and as seen here is perfectly combined with the warmer natural tones of the Flared Oak Reproduction decorative panels, worktop and end panels in this particular design, for a contemporary handle-less kitchen.
The central island with Mineral grey panels and worktop provides ample food preparation and although the hob is on the left wall and not the island (a matter of personal choice), with the use of downdraft extractors, bulky overhead extraction compromising the head room for taller people using the hob isn't as much of a problem these days.
Whilst the Laser handle-less doors have a sleek profile and without the handles offer an unbroken line of colour, the doors and drawers have a recess atop the doors so as to effect an 'easy to use' handle-less door system.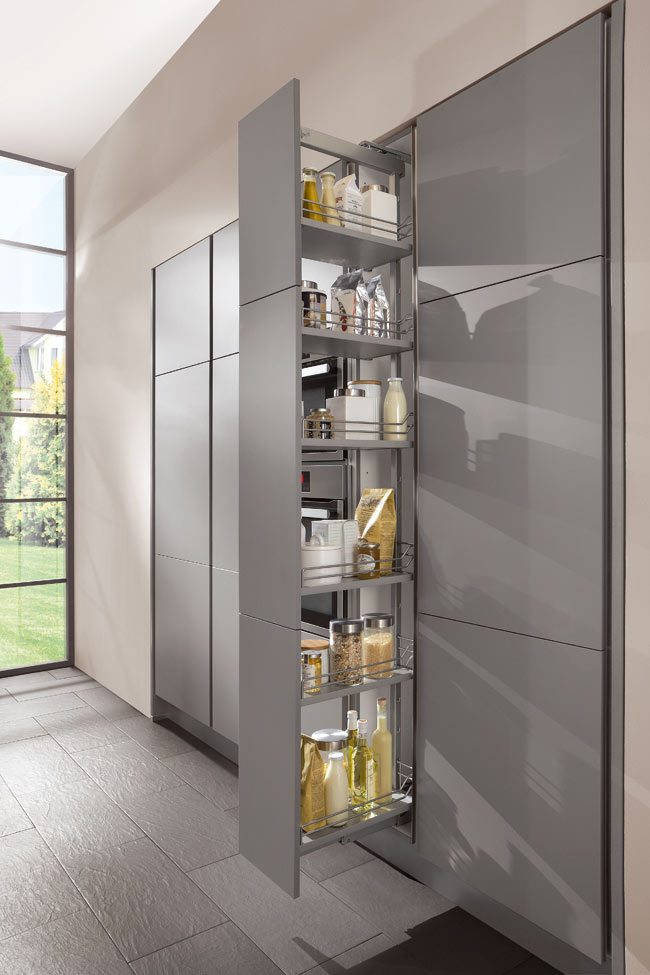 Above: The tall bank housing larder format refrigeration the oven and microwave and tall pull out storage is set into a recess so as to further showcase the minimalist appeal of the Nobilia furniture and in doing so provides clean and unbroken lines and the handle-less units are accessed here with a simple to use push latch.
Below: A mix of drawer packs offering large or narrow widths allow for a range of storage solutions housing everything from pots and pans to food or bottles as seen here and the use of the Mineral Grey and Flared Oak throughout the kitchen as subtle colour continuations only add to the appeal.
However, beauty isnt just skin deep with the Nobilia drawer packs as they are designed to accomodate a wide range of storage options and are in many cases, rated for more than 50kg.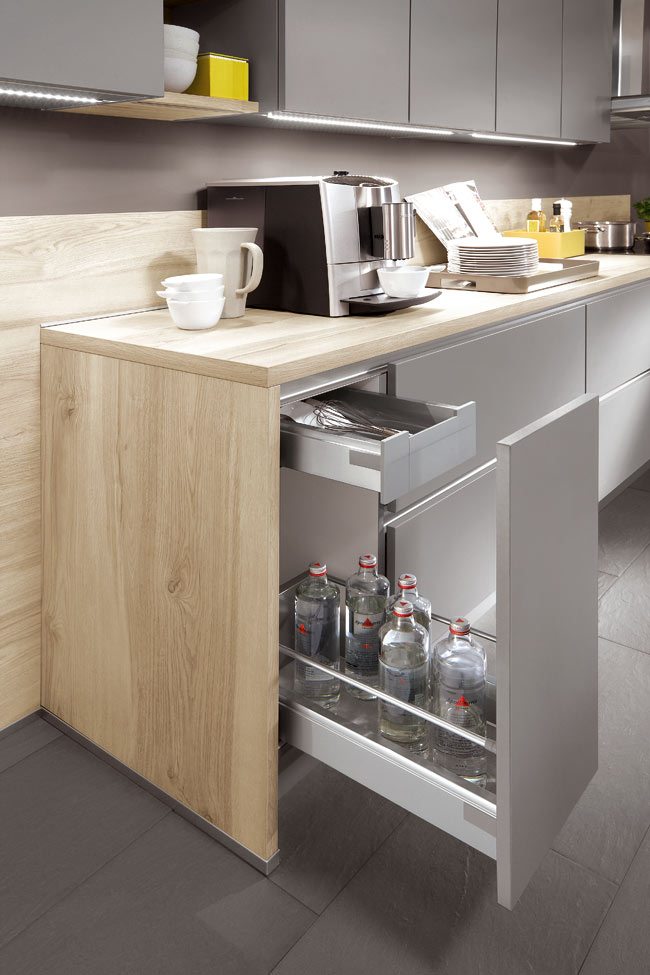 iHome Interiors design and fit a stunning range of Nobilia German kitchens across Buckinghamshire, London, Berkshire, Surrey, Oxfordshire, Hampshire and Hertfordshire.
Click 'Previous Work' for a look at the vast array of projects we have delivered to date and if you would like to have any further information regarding our Nobilia Handle-less German Kitchens, or a brochure please feel free to get in touch…
To view the gallery please click Nobilia Handle-less Kitchens, or the Nobilia logo below;