Kitchen accessories are like an options list for a new car and whilst some a very functional, others are decorative and then there are those that serve both agendas with ease and any good German kitchen should have a tick in both boxes of Form & Function.
Whilst it would take days to go through all of the options available from Nobilia alone,  in our creative consultations with customers we tend to ask about their preferences for styling and the types of features they need, the ones they can and can't do without and any ideas that they would like to bring to the table and its during these consultation were customers will say they have seen something in another kitchen, be it online, in a showroom, on the TV or at someones house and they want something similar.
With their extensive range most of the suggestions we have had given to us tend to be available direct from Nobilia which makes kitchen planning that much easier as whilst you can source numerous accessories from numerous suppliers, getting the colours to match can be a challenge.
Some accessories we wanted to shine the spotlight on here are:
above: Nobilia Railing for some clever storage is a modular racking system that works in conjunction with shelving and some panelling options to allow your kitchen walls and dead space to become more functional. The modular system allows for numerous sizes and configurations to store and display all manners of kitchen items and utensils whilst simultaneously making them easy to reach.
below: whilst decorative storage comes in many formats such as the Colour Accents range these shelf and cupboard organisers are great. They look stylish and with a few options you can break up your wall space and make your storage open and smart.
Whilst the kitchen furniture is primarily closed off via door and drawer fronts as kitchens and living rooms combine into one living space, it is these very on trend styling touches that subtly change the room dynamic as after all, who wants to have their books and keepsakes behind closed doors…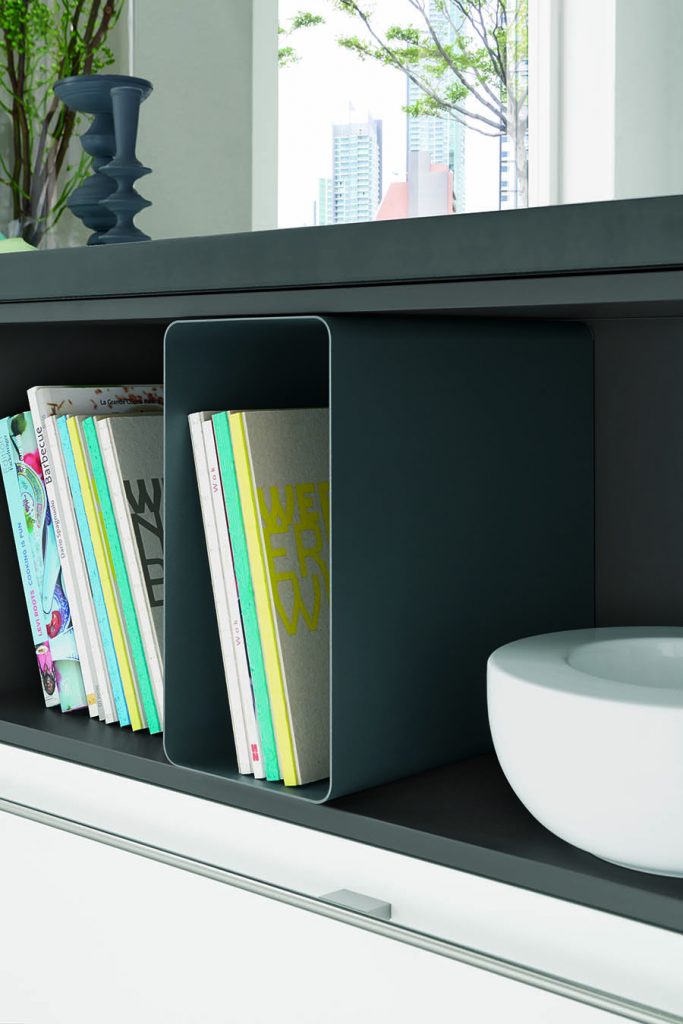 The above are just two examples of the thousands of kitchen accessories available from Nobilia.
iHome Kitchens design and fit a stunning range of Nobilia German kitchens across Buckinghamshire, London, Berkshire and surrounding areas. For a look at the vast array of customer projects we have delivered to date Click 'Previous Work'.

To take advantage of our Free Design Planning service, and to explore the full potential of Nobilia or our other range of kitchens including English Made Classic and traditional for your next kitchen simply request a brochure and/or book a design visit and one of our team will be in touch right away…