Nobilia Flash is a high gloss German kitchen door style available in White, Ivory, Satin Grey, a rich Red and new to Nobilia and shown here, Midnight Blue (456)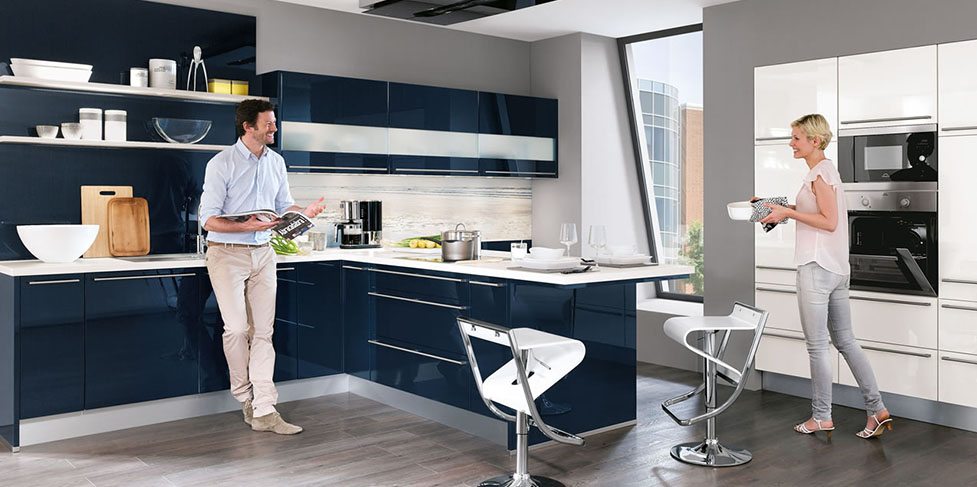 Midnight Blue, paired here with White (the tall bank and oven housing) and the glass doors to the wall units in the far corner make for a rich and sumptuous colour tone that with the high gloss delivery offering its reflective and space enhancing properties, makes for a break from the traditional solid white gloss trend that German kitchens are renowned for.
Furthermore, the rich and vibrant Midnight Blue (or any other Nobilia colour for that matter) can be continued throughout the kitchen more than any other German kitchen brand with Nobilia's meticulous attention to detail allowing kitchen designers to use factory supplied decorative panels and storage solutions like the panels and shelving to the back wall seen in this example and in doing so, personalise kitchen designs more and more to the individual styling preferences as dictated by the end user and client.
At iHome Interiors we tailor our designs around our customers specific preferences and needs and we can design and fit a from stunning range of Nobilia German kitchens across Buckinghamshire, London, Berkshire, Surrey, Oxfordshire, Hampshire and Hertfordshire.
Click 'Previous Work' for a look at the vast array of projects we have delivered to date and if you would like to have any further information regarding our Nobilia German Kitchens, or a brochure please feel free to get in touch…