A relative newcomer to the Nobilia German kitchen range the Credo door is available in Slate Grey or as shown here, Alpine White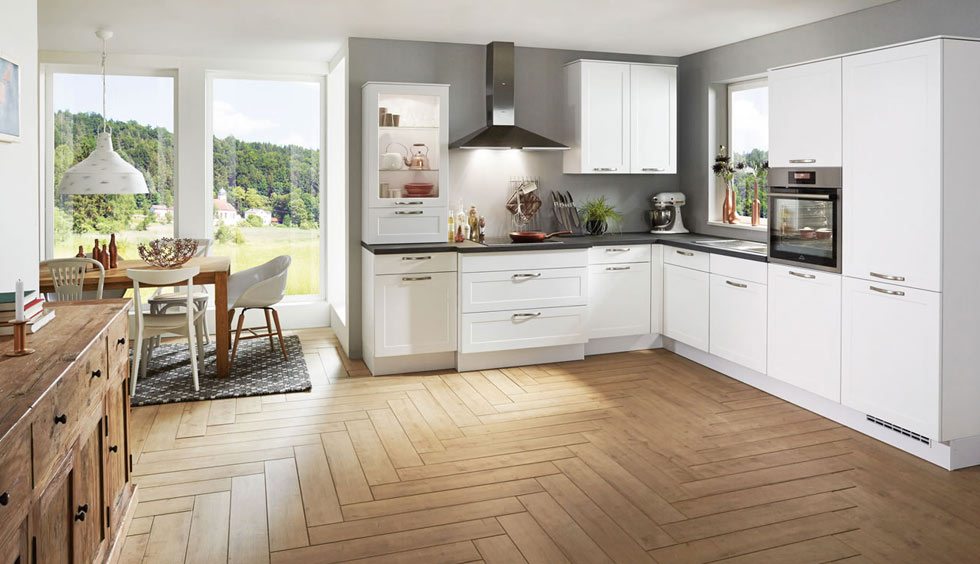 The Credo door, with its subtle panelling is characteristic of the growing trend to have old favourites and classic door styles updated with modern kitchen furniture and is perhaps no different to the many people who prefer classic cars, but want modern functionality and build quality.
Whilst Nobilia offered a lot of choice to those seeking the modern handle-less kitchens that the German brands are famous for, not all UK homeowners want modern and it has to be said that in years gone by Nobilia and the other European brands didn't capture the UK's 'classic' tastes accurately enough but it has to be said that with the likes of the Credo door, Nobilia is listening to its customers and offering more and more choice.
In keeping with the classic appeal of the Credo door style, as seen here, it is perfectly at home with wood tones and more traditional furniture such as kitchen dressers or dinning tables that would never be pushed aside when updating the kitchen…
iHome Kitchens design and fit a stunning range of Nobilia German kitchens across Buckinghamshire, London, Berkshire, Surrey, Oxfordshire, Hampshire and Hertfordshire.
Click 'Previous Work' for a look at the vast array of projects we have delivered to date or take advantage of our Free Design Planning service, and explore the full potential of Nobilia for your next kitchen…