Langton shown here in Painted Gravel and Seal Grey is a popular classic In-frame English Shaker kitchen.Designed and manufactured in the UK this beautifully crafted in-frame range blends superior craftsmanship with the finest materials. Smart styling, excellent quality and a timeless feel ensure that Langton not only has stand out style, but will also endure the test of time.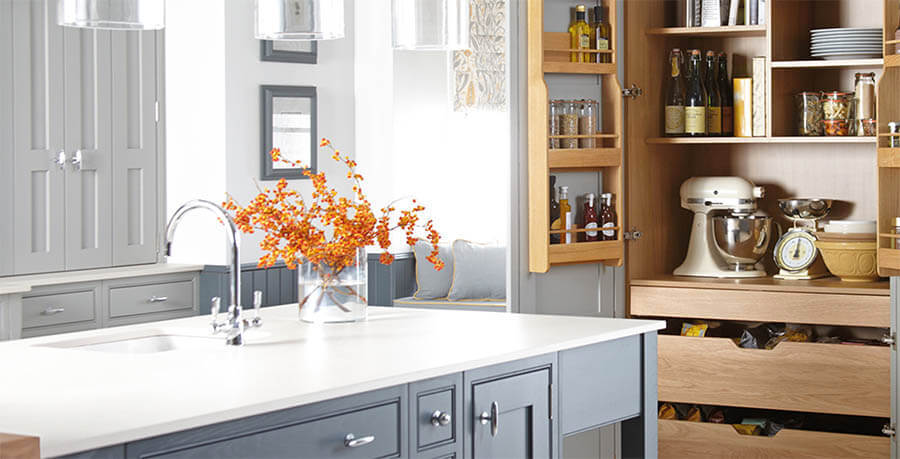 Available Features:
Bespoke kitchen door sizes are available for this range.
Curved doors are available in this range.
Beautifully crafted in-frame kitchen range, manufactured using premium grade materials.
Iconic shaker styling for a timeless look.
Decorative open units in a variety of sizes for a variety of functions and an overmantel arrangement is available for this range.
A designer kitchen with an abundance of elegant accessories for design scope
Hand sprayed painted finish available in 25 stunning on trend colours or bespoke shades
Manufactured entirely in the UK
A wide accessory package to ensure the very best kitchen design options.
iHome Interiors of Marlow in Buckinghamshire design and fit a stunning range of kitchens across the South East including London, Berkshire, Surrey, Oxfordshire, Hampshire and Hertfordshire/
For more details on any other of our English Kitchens, to request a brochure, or to speak to one of our designers about your new kitchen project, simply use of website contact form (Contact Us) or call at your earliest convenience…