There is an abundance of clever storage solutions with Nobilia German kitchens, from open and decorative storage that helps a room transition from kitchen to living room, utensil railings or making hard to access spaces more accessible plus many many more.
Whilst the large drawer has become a staple feature in a modern German kitchen it is worth noting that the interior of the drawer (Germanically speaking) is just as important as the exterior colour choice and with Nobilia, as you might expect, there are an abundance of options to format your drawer storage.
above: to accommodate a variety of plate sizes and shapes and various storage containers this drawer insert can be configured in a number of ways but the container holders on either side are perfect to stop the jars from sliding about overtime you open and close the drawer and the stainless still holders they sit in are as stylish as they are practical.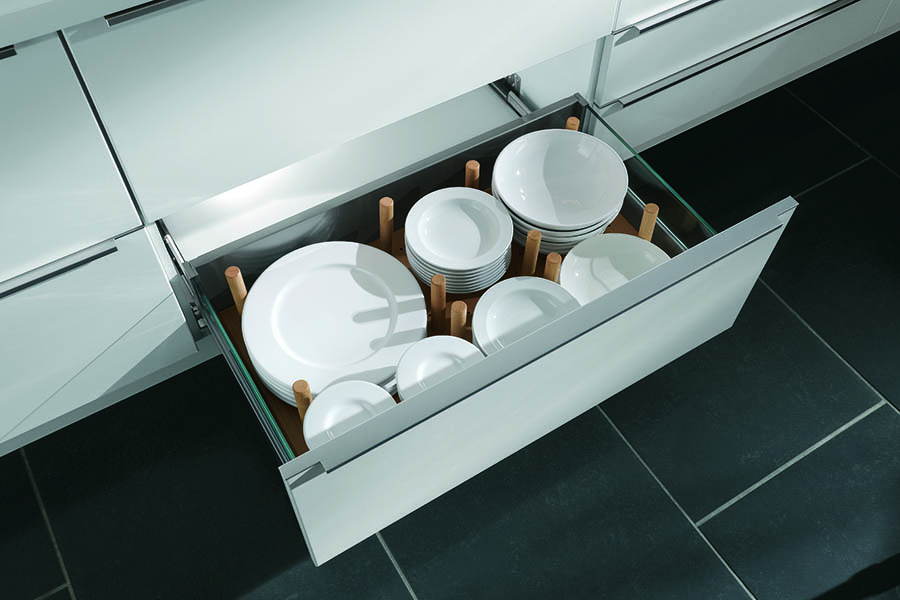 above: a simple yet effective wooden peg insert format allows greater flexibility for the home owner as they can be moved to suit the size of your dinner set accordingly and if you change the dinner set you just reposition the pegs.
above: for a more engineered approach this Nobilia clever storage solution is the epitome of 'a place for everything and everything in its place' with well organised sections to allow for many many different sized contents. Perfect for cooking and baking ingredients and the like.
below: a step up from the wooden peg drawer insert shown above these wooden panels allow for those smaller items such as condiment bowls, saucers and the like but can be configured to suit your chosen set up.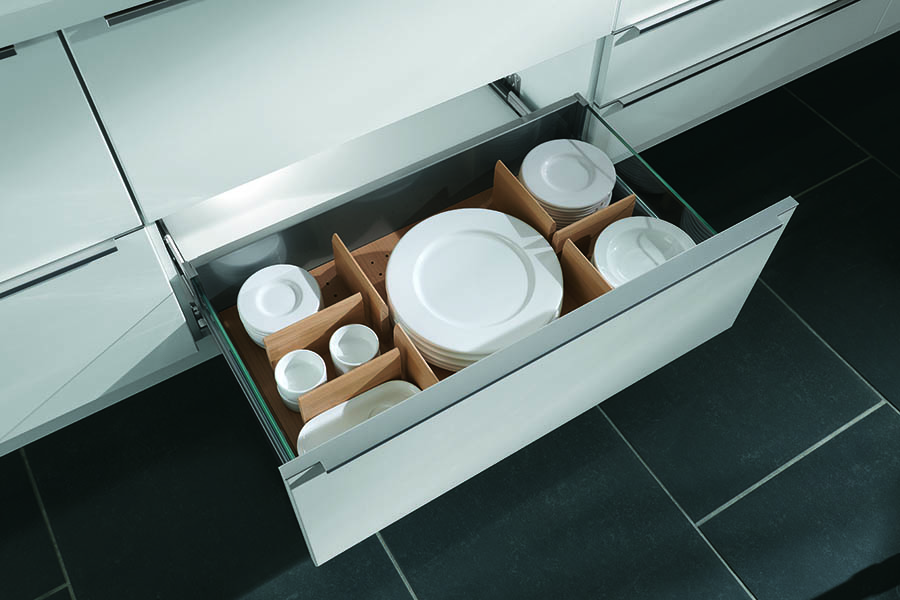 The Nobilia Profi+ drawer system has an extremely high quality steel frame that gives it a gorgeous modern and timeless look. The frame has a double-coated silver finish, the colour-coordinated bottom panel is 16 mm thick. The drawer frame has an exceptionally smooth running action and the opening and closing noise is virtually imperceptible. The synchronous guidance guarantees absolutely even and seamless motion of the drawer runners.
Impressively you can store upto 40kg in 600mm width drawers, up to 60kg for 800mm and 900 mm width Nobilia drawers and you can store an amazing 70kg for 1000 mm width and up to 80kg for the max 1200 mm width drawers for outstanding storage capability.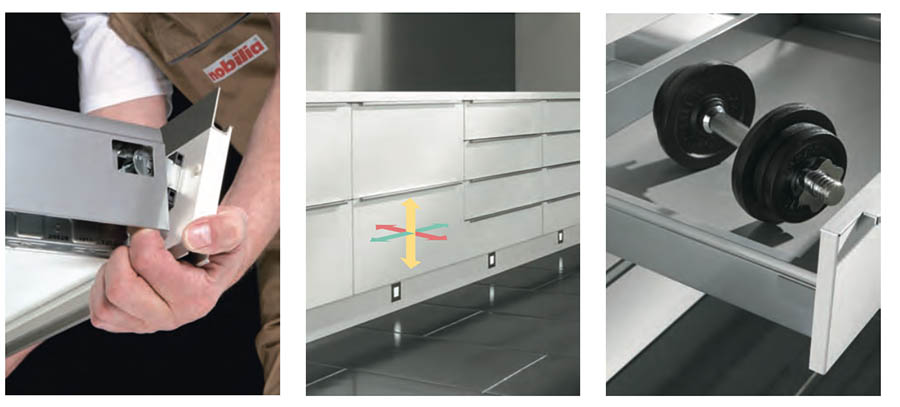 iHome Kitchens design and fit a stunning range of English made kitchens and Nobilia German kitchens across Buckinghamshire, London, Berkshire and surrounding areas. For a look at the vast array of customer projects we have delivered to date Click 'Previous Work'.

To take advantage of our Free Design Planning service, and to explore the full potential of Nobilia for your next kitchen simply request a brochure and/or book a design visit and one of our team will be in touch right away…