Nobilia Speed, a modern classic in the making. Recently, the classic style has enjoyed a resurgence in popularity in the kitchen. The mix of modern and classic elements allows for colour and front combinations with a unique charm, and impresses with its timeless look. Classic kitchens from nobilia combine modern straight lines with simple framework contours and state-of-the-art kitchen technology and ergonomics. The result: Kitchen designs with modern homeliness were form meets function…
SPEED 206 IVORY SOFTMATT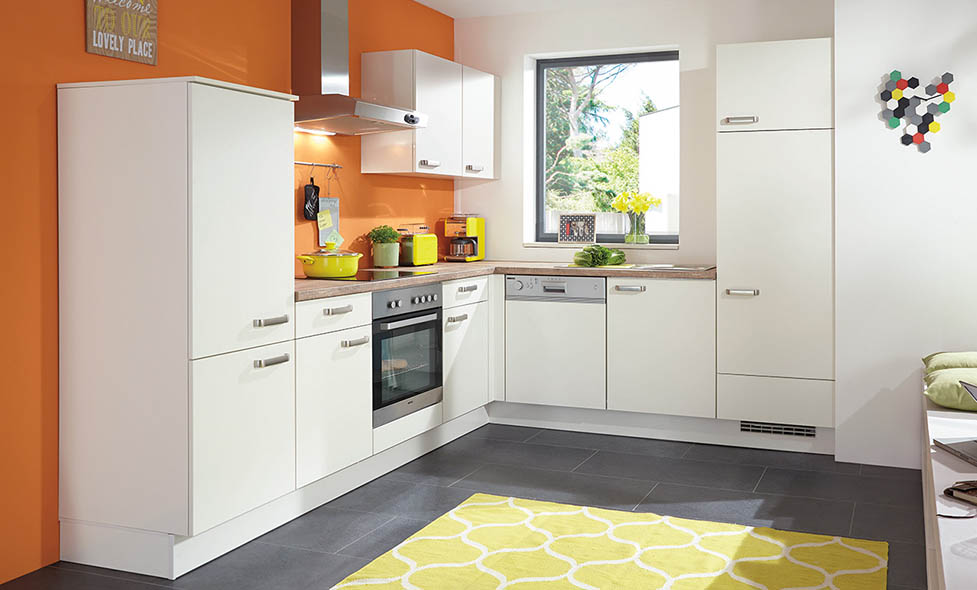 Cottage style, reinterpreted. Nobilia Speed 206 in Soft Ivory Matt is a kitchen impresses with its soft, natural shades: Ivory with Virginia Oak reproduction. The wood décor brings an inviting cottage feel to the room in this functional corner kitchen.
SPEED 259 SATIN GREY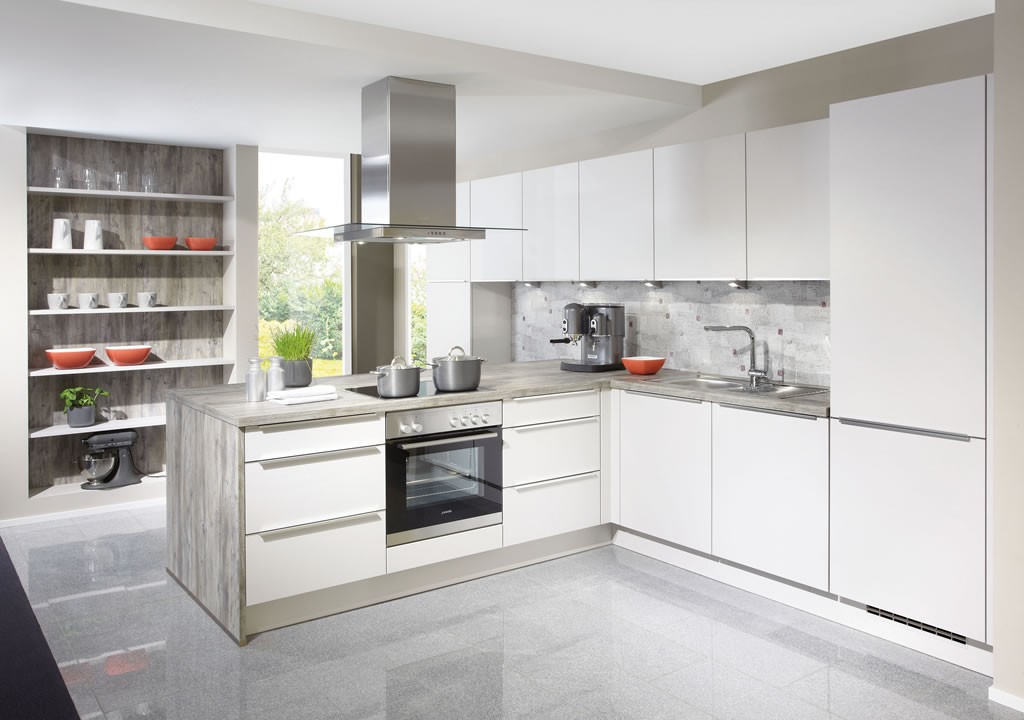 Plenty of storage space – Speed 259 in Satin Grey is perfectly planned. Much is demanded of a real family kitchen. It requires organised kitchen work routines, sufficient for the entire family and of course the necessary robustness and durability. The focal point of this family-oriented kitchen is the island cooking centre. It visually separates the kitchen from the adjoining living room.
SPEED 281 CERAMIC GREY REPRODUCTION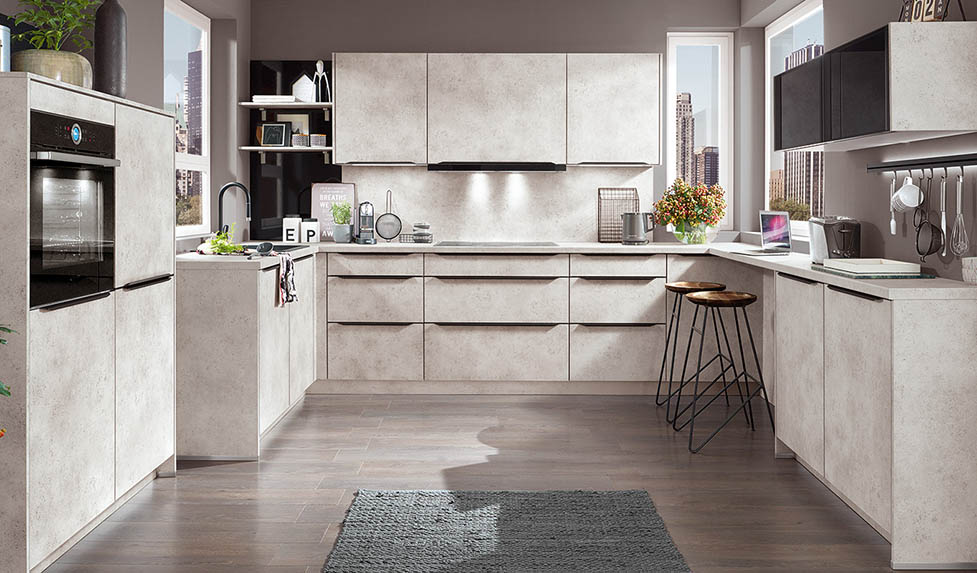 Nobilia Speed 281 with a Ceramic look in XL size. Short distances, smart work sequences and cleverly structured storage space are the most important aspects of kitchen planning. Kitchens with a U-shape are often a good solution, especially for small floor plans.
SPEED 260 MONTANA PINE REPRODUCTION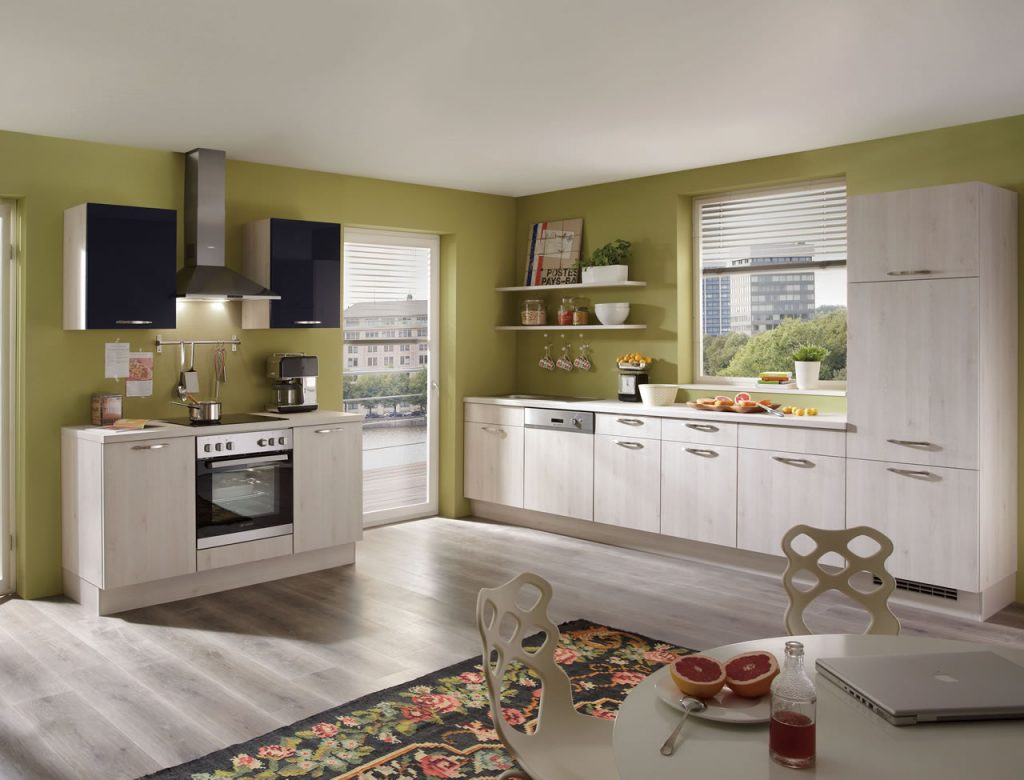 Open to change This modern, easy care nobilia kitchen style in Montana pine reproduction creates highlights with accented wall units in Blue high gloss lacquered laminate. The decorative shelf unit elements give this kitchen that special innovative touch as well as relax the markedly functional design a bit.
SPEED 262 VIRGINIA OAK REPRODUCTION
Perfectly planned. ROOMS WITH SLOPED CEILINGS ARE ESPECIALLY CHALLENGING FOR KITCHEN PLANNERS. In order to optimise the space in the room, solid planning is required, as is light colours and clever practical solutions. The combination of easy care plastic laminate fronts in Virginia oak reproduction décor and Satin grey invokes a modern, homely flair. The extra tall wall units use the area beneath the slope as much as possible and thus provide plenty of storage space. By simply using an extra deep worktop, few resources are needed to create a practical breakfast bar solution on the rear side of the corner kitchen that opens to the living room.
SPEED 244 ALPINE WHITE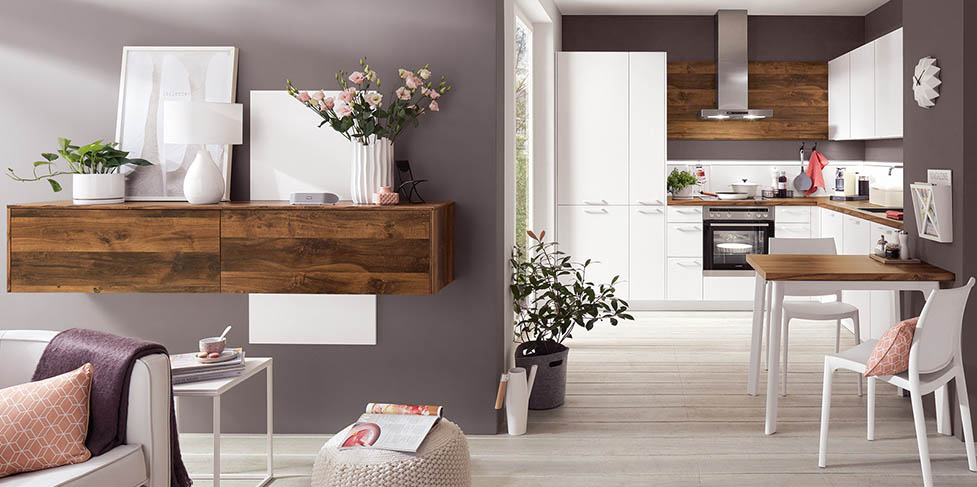 Clever, flexible and fit for everyday use! Every centimetre of storage space counts when dealing with small floor plans. This is especially true for small town houses or city flats. The new generation of XL heights provide 10 percent more storage space in base units. The tall units smoothly continue the lines of the XL height units and the style of Nobilia Speed in Alpine White 244 is simply effortless and versatile.
CLASSIC KITCHENS NEVER GO OUT OF STYLE. Sleek elegance, clear shapes and practical functions distinguish the classic kitchens from nobilia. Which is why the classic kitchen becomes a sort of companion and meeting point over many years and appeals equally to the various generations of a family.